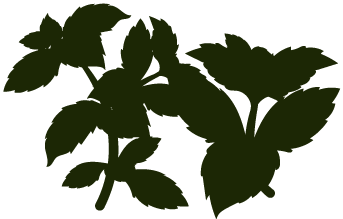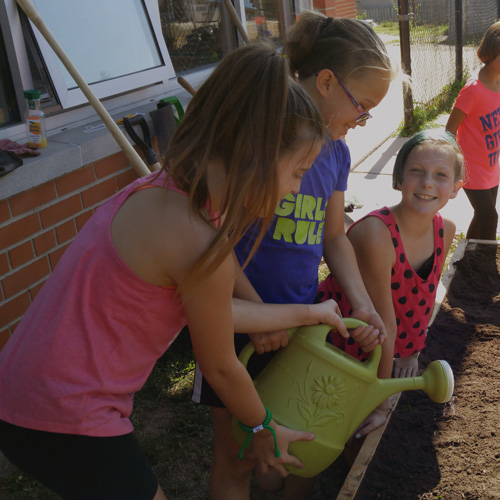 St. Bernadette students tending to their gardens
2019 and into the future – Growing up, and up, and up!
With the success of obtaining the Ontario Trillium Foundation grant, we can grow our project to new heights! This year we aim to install 13 gardens – building a total of 40 more gardens over the next three years! Not to mention our other goals to continue our annual Teachers Workshop and Conference, and perhaps our most ambitious and highly-anticipated objective: to support a youth-led farmer's market team to grow, harvest and sell produce at a local farmers market. We can provide the support and funds to immerse youth into our food system to gain valuable urban agriculture experience and volunteer hours (link to School Food Farmers page). Follow us on social media for updates, important grant opportunities, and you can always support us here (link to donate page) to ensure our project remains sustainable, and ever-present in the community. We thank you for all your support and interest in making sure students have access to grow fresh, healthy food.
2018 – Planting and Cultivating: Finding Community Partnerships
The effort put in this year sowed many rewards. We built strong partnerships and school food gardens began to spread within the education community. We hosted our first annual Teachers Workshop and Conference early in the year to promote and support school food gardens. Teachers as far as Toronto attended, and we had great success from our teacher panelists and guest speakers. This year, we partnered with Your Neighbourhood Credit Union for a garden at Silverheights P.S in Hespeler (link to "Resources" – "Partners" page). Successfully, we were able to build 5 more gardens with the help of 48 more volunteers, reaching our new total of 5777 students.
The goal of this year was to find strong connections in our community. Each build was possible through volunteer construction, student participation, and local business involvement. Each component of our project reaches into our community. Our garden frames are constructed by secondary school students for their volunteer hours with the help of dedicated teachers and school administration. We sourced our supplies from local businesses, collaborated with other non-profit organizations, and found corporate sponsorship with passionate organizations. This created learning opportunities, and lasting partnerships. There is always a place for our volunteers and community members to contribute.
2017 – Healthy Communities, Healthy Kids
Thanks to the incredible partnerships between Seeds of Diversity and the Waterloo Region Community Garden Network, we were able to build 7 new school gardens in the Waterloo Region. We were grateful to receive the Healthy Kids Community Challenge (Region of Waterloo) grant, and were able to install each of these gardens in elementary schools through the help of volunteers and students. These gardens provided approximately 2720 students the opportunity to participate in the school garden process to grow fruits and veggies. Many community members helped and volunteered their time and energy to this project. Approximately 67 volunteers participated, which included supporting school staff, parents, students, and members of the community. Our friends at Grand River Food Forestry (link to https://www.grandriverfoodforestry.com/) built a pollinator/edible food fedge on the perimeter of our Empire P.S garden. This inaugural phase of the WR School Food Gardens project set the stage for what we could accomplish as a community, and sets an example for the nation to make a movement for school gardens across Canada.