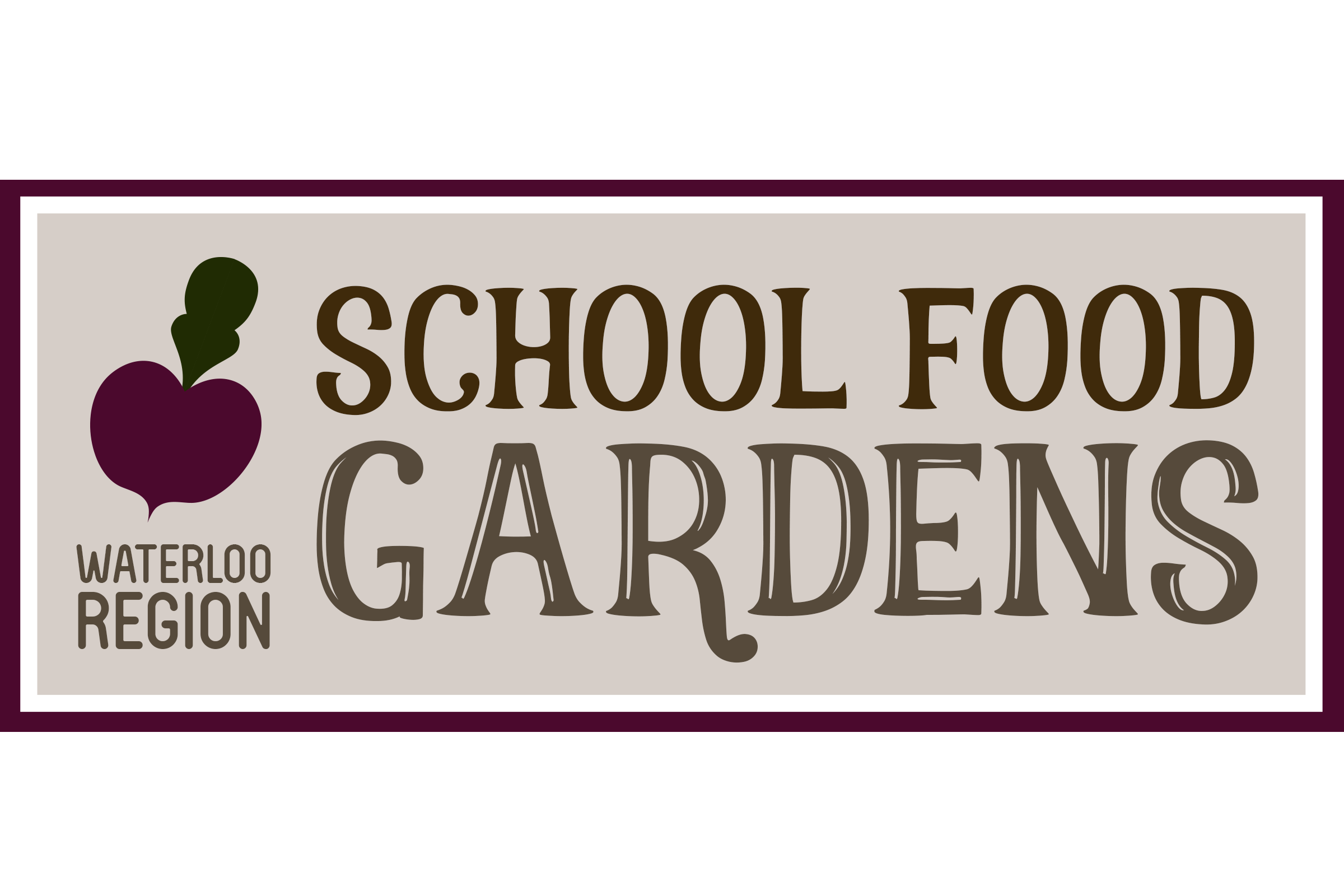 Blair Road P.S. Garden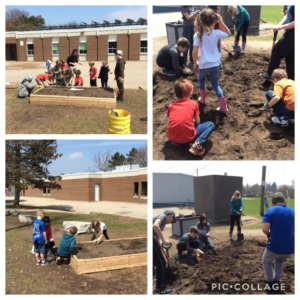 There was a lot of buzz around our garden right from the beginning.  Everyone got involved in moving dirt on build day. Many students helped plant seeds.  There were lots of eager workers and we were lucky to have a lovely day!
Then, things began to sprout.  Strawberry plants began to blossom. And the students were watching. At recess, they passed through the garden area while playing, and some began to stop and really look at what was growing.  Then the questions started: "When will the strawberries be ready?" "What is kale?" As the teachers weeded the garden and harvested lettuce at recess, a few students came to watch and talk and asked to help.  Then they tried the lettuce and the kale. That started a tidal wave of students asking to try kale and lettuce and green onion. During recesses, kids would ask "can I have some kale?" and they would keep coming back for more!  
The strawberries began to ripen, and students got excited about getting their families to come and work in the garden over the summer (maybe it was so they could EAT the strawberries). Talk and learning continued, with conversations about how families grew or prepared vegetables at home, and about familiar foods growing in the school garden, which some students found amazing. Some students discovered that green onion makes a pretty good whistle!
 We are looking forward to the fall, harvesting carrots, cabbages, potatoes, and if we are lucky, some pumpkins!  It has been an amazing learning adventure so far, and we've only just begun!
 – Brita Sherren, Blair Road P.S. teacher and garden champion
Riverside P.S. Garden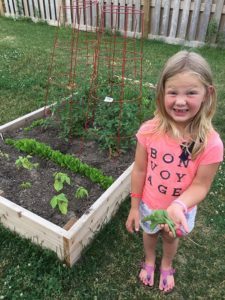 We have received a grant through Waterloo Region School Foods Gardens and funded by Seeds of Diversity to put in 6 raised bed gardens in our school yard. The project gets children involved in filling the raised beds with soil by using pails to haul the soil from where it is dropped off in a large pile and carrying the pails of soil over to the gardens. […] Moving soil this way seems tedious, but the children delight in playing with the dirt in the pile, filling their buckets and dump-trucks, and making many, many trips back and forth from the dirt pile to the garden beds.
We read several books about seeds and growing plants, and the children decide on a list of things they would like to grow. We plant tomatoes, strawberries, mint, lettuce, spinach, carrots, beans and sunflowers. Every day for the rest of the school year, the children start their outdoor time by checking on our garden to see if anything new is growing. When it needs watering, they haul heavy watering cans repeatedly to give their plants what they need to grow.
They notice that I come to school with mint in my water bottle to make it tasty, so they start to pick the mint leaves for a recess snack and also add them to their water bottles. They delight in every new tomato and strawberry bloom that shows up and carefully pick out the weeds that we did not plant so that they do not steal water from our food plants.
 – Jenny Soehner, Riverside P.S. teacher
My girls and I had the pleasure of being a part of the planting experience during the school year. When the kids left school their plants were quite small still. They both were very excited to go back this week to water and check on the gardens. And even more excited to pick some vegetables to enjoy! I loved how they could be apart of this school garden growing experience, both in the planting and maintaining stages. I was also very excited that they both tried a radish for the first time – thanks to a class that grew them, my kids tried something new!! How cool!!

 

– Lisa Helmann, Riverside P.S. teacher and parent
Riverside P.S. 2020 Update
I am so grateful for your organization and the thoughtful ways you have been supporting us. The plants have grown well, and children are picking tomatoes, finding snails in the gardens, and watching bees in the blossoms. We are all so glad to have something to look forward to checking out each day when we go outside. This was our 3rd day with Kindergarten children, and each day we have checked the gardens. 
The children have been checking the gardens daily for ripe tiny tomatoes and strawberries. Yesterday, when they were digging through the tomato plants, one child found a large cucumber, which caused a lot of excitement! Then she dug in the dirt and found some potatoes, calling over friends to be potato farmers with her and they all brought in a harvest of potatoes. 🙂 Later, we found some seed pockets on a "wildflower" growing in the garden, and the children eagerly pulled them apart looking for the seeds hiding inside. One child said, "I know one of the gardens has lots of room" and she went over and made a little row with her finger and planted the seeds.
– Jenny Soehner 
Owl Child Care Services - John Sweeney Garden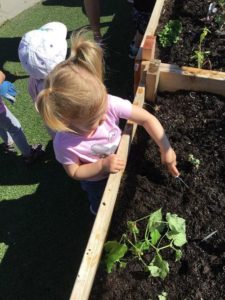 Owl Child Care Services – John Sweeney was thrilled to receive a grant from Seeds of Diversity Canada that allowed us to bring more nature into our outside environment. We were able to double our number of garden beds to four, add picnic tables for the children to enjoy the garden oasis and a garden shed to house the materials needed to help our gardens flourish. These materials aided in supporting the children in learning about the importance of nature.
The children were able to help us throughout this implementation process by assisting in building the garden boxes, adding the rocks and soil into the boxes and planting cucumbers, peas, beans, sunflowers, tomatoes, eggplant, cantaloupe, strawberries, and lettuce. We have watched our plants grow through their different stages and have enjoyed harvesting some of the peas already. The children often invite their parents to help them pick peas. We've also been able to share strawberries with each other. We want to thank you for giving us this opportunity and we can't wait to see our garden oasis continue to flourish.
 – Simone Haughton, RECE
St. Bernadette C.S. Garden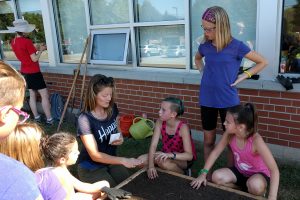 We were able to plant our garden on the first day of fall. Since we had unusually warm weather, we were able to have a bit of a growing season. Our garden construction team was made entirely of females! They placed the frame, lined the box with fabric and then hauled the topsoil. Planting the seeds of lettuce, beets and beans was the next step. The girls divided up into teams and made a schedule for watering. Within a few weeks, there was life! All 3 types of seeds sprouted.
Students from the grade 6 class researched cartoon vegetable pictures to reproduce on the edges of the wood to make the garden more appealing.
Last week the grade 5/6 class had a salad day luncheon and added the lettuce and beets to their lunch. They loved it!
Our plans moving forward are to prepare our garden for the winter and to start a few seedlings indoors in January. We plan on purchasing a few vegetables from the nursery as well. Our students will continue to tend to the garden.
On October 27th, we harvested a huge bowl of lettuce and radishes. Students were invited to take some home for the weekend.
 – Kathy Doherty-Masters