The Youth Advisory Council (YAC) is a fun and structured way for youth to share their opinions and perspectives on our programming, policies, and strategic direction. Our Council members will also be able to participate in workshops about food systems and leadership, and will work together to build on self-selected skills. 
The primary purpose of the YAC is to advise on our Youth in Food Systems (YFS) programming and elevate youth voices within our projects. Prioritizing the contributions of the YFS primary stakeholder group improves the relevancy of our work, and allows for the interests and needs of young people across southern Ontario to be better integrated into program design, execution, and evaluation. 
The YAC's activities may include online meetings, workshops, independent research, and review of staff's task priorities; all of which are to enable the Council to discuss and develop thoughtful recommendations while learning and skill building alongside their peers.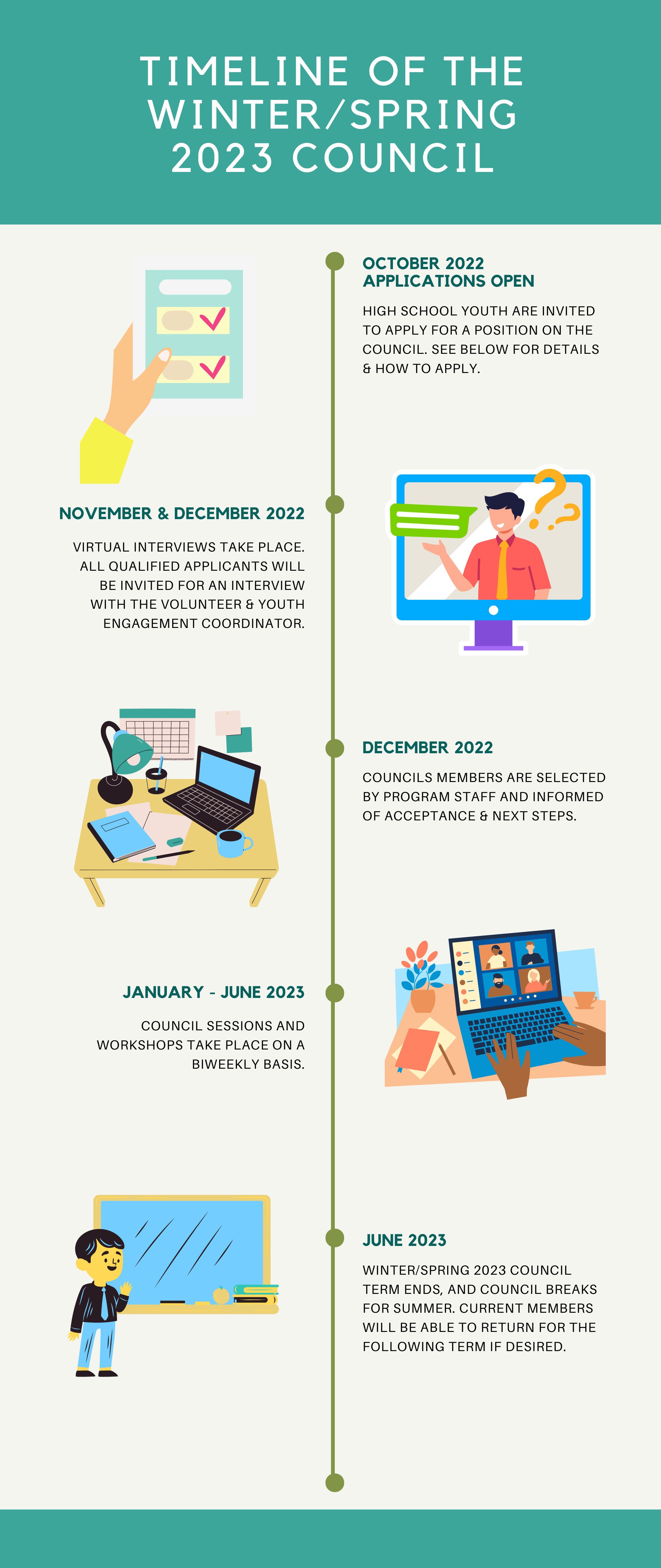 OUR COMMITMENT TO DIVERSITY AND INCLUSION
Our goal is for the YAC to be made up of youth from across Southern Ontario that represent various cultural and socioeconomic groups.
WHY JOIN THE YAC?
There are many reasons to join the YAC, including but not limited to: 
To meet new people;

To learn about prevalent food systems & sustainability issues in southern Ontario;

To learn about and utilize leadership and communication skills to shape our organization's programming;

To work on special projects alongside youth with similar interests;

To join a small grass-roots initiative tackling the issues that surround our food systems;

To build your resume and university applications;

To fulfil your required community service hours;

To have fun!
WHAT ARE WE LOOKING FOR?
Youth between the ages of 14 and 19 at the start of the YAC in January 2023

Individuals who are interested in food & sustainability, and want to learn from some cool people in the sector 

Individuals who are comfortable sharing their thoughts and ideas in a (remote) group setting

Those who are interested in becoming environmental leaders

Those who are keen to work within a small organization to develop and improve upon programs, processes, and outcomes 

Those who can commit to regular biweekly meetings on Wednesday evenings from January to June 2023 

Due to the remote nature of the YAC, all Council members should have a device and Internet connection for participation 

A willingness to join and engage using

Circle
Does this sound like you? Apply to join the Winter/Spring 2023 YAC by selecting your region on the map below or clicking the application button at the bottom of the page. Please email Samantha, volunteer@youthinfoodsystems.ca if you have questions, concerns, or require assistance with any aspect of the process.
The deadline to apply for the Winter/Spring 2023 cohort was December 2, 2022 at 12pm ET. The application Form is still available below, and applications that come in will be added to our waitlist!