5 Affordable Sustainable Clothing Brands 
Written By: Erica Gu Cao
Edited By: Erica Gu Cao
Designed By: Samantha Porte
Published By: Samantha Porte
Fast fashion has been on the rise since the 2000s. It is fast and inexpensive yet trendy for consumers. Trends come and go quickly and so does fashion. Clothes from fast fashion brands are usually made from cheap fabrics that are not meant to last long. It is extremely wasteful and harms our environment. According to Waste Reduction Week Canada, around 10.5 million tonnes of clothes are dumped into landfills every year. That is just in Canada too! Recently, people have been more aware of the impacts of fast fashion and the industry is now promoting sustainability. Usually, when people think of sustainable items, a heavy price tag comes to mind. Not all sustainable brands are costly though. 
Today, I am going to share 5 affordable, sustainable clothing brands. Hopefully, this can bring more attention and popularity to sustainable fashion. 
For Days 

https://fordays.com/
image taken from "Honest Brand Reviews"
Sustainability: uses organic fabrics like cotton and wool. All their clothes are recyclable and they have a take-back and recycling program. 
Best For: t-shirts and hoodies 
Price Range: ~$20(t-shirts) to ~$160 (jumpsuits) 
For Days is one of the best sustainable fashion brands in the market. They are one of the frontrunners in promoting sustainability in fashion by creating this great program. Every piece is made with no waste and is 100% recyclable. The program enables customers to return items of clothing once they're done wearing them. It then is recycled to make new materials. The fabrics in the clothes are long-lasting and cause little damage to the environment. The fabrics range from cotton to recycled terry. For Day's goal is for a better and more sustainable world. 
Kotn

https://kotn.com/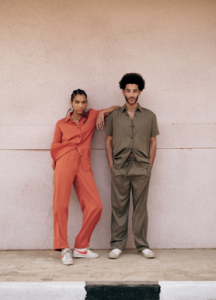 Image taken from "Women's Wear Daily"
Sustainability: B-Corp, meaning that Kotn uses their business to solve social and environmental problems. They use organic materials, non-toxic dyes, and the workers are in a safe environment. The brand also gives back to Egyptian communities. 
Best For:  Loungewear 
Price Range: ~$20 (t-shirts) to ~$110 (denim) 
If you want sustainable clothing essentials, Kotn is the brand. They are known for their soft and breathable Egyptian cotton clothes. Kotn produces some of the staples in our closet like a classic tee in an ethical and clean environment. They aim to give back to the communities that their workers live in, and provide education for children to stop child labour. Kotn creates comfortable and affordable loungewear that is made with quality fabrics.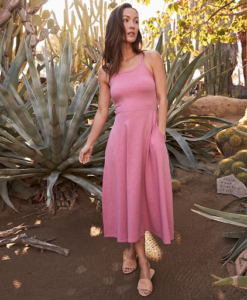 Image taken from "dresses with pockets" 
Sustainability: GOTS certified organic fabrics.  Pact factories are Fair-Trade certified. Their clothes are made with eco-friendly materials and have eco-friendly packaging. They have a give-back program which enables customers to donate their old clothes to nonprofits. 
Best For: Closet essentials like t-shirts, dresses and undies. 
Price Range: ~$10 (baby clothes) to ~$170 (dresses) 
Pact is a brand that provides affordable yet comfortable and sustainable clothes. They use GOTS certified organic cotton to create their clothes. Organic cotton is better for the environment because it uses 10x less water than normal cotton and is grown without any harmful chemicals. This brand is for everyone from babies to adults and can be worn throughout the year. Plus, if you are done wearing the clothes you can 'give it back' with their "give back box" program. Pact is a great brand for people who want affordable yet trendy clothes made with quality. 
Quince

https://www.onequince.com/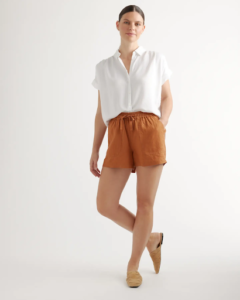 Image taken from "Quince" 
Sustainability: BSCI certified ethical production. Quince is GOTS certified sustainable materials. All their factories are OEKO-TEX certified factories with eco-friendly packaging. 
Best For: Provides a more elevated form for basics. Simple and minimalist clothes. 
Price Point: ~$15 (t-shirt) ~$150 (leather jacket) 
Quince makes luxurious closet essentials at affordable prices. The designers at Quince always keep quality and sustainability in their minds when it comes to making their clothes. They use organic materials like cotton, silk, and cashmere to create minimalist and classic designs that are meant to last. This brand openly shares its effort in becoming ethical and sustainable with information about wages and the working environment inside its factories. 
Tentree

https://www.tentree.ca/
Image taken from "tentree"
Sustainability: Certified B-Corp and is Climate Neutral Certified. They use recycled and sustainable materials. Fair-Trade certified ethical manufacturing. 
Best For: Graphic tees, active clothing, outerwear. 
Price Range: ~$20(t-shirt) to ~$300 (men's outer jacket) 
Tentree believes that we should protect and preserve the world we live in. This brand revolves around protecting Earth with its clothes ethically made and designed with sustainability in mind. The brand provides clothes with styles that are meant to last. Another way they showed their commitment to sustainability is through their project. Their motto is "buy one, plant ten" because for every purchase, Tentree plants ten trees. They believe that you don't have to be an activist to change the world for the better. In total, Tentree has planted around 73 million trees around the world and is slowly reaching its goal of planting 1 billion trees by 2030. 
All of the above brands use fashion as a way to spread the message of sustainability. I hope people who read this blog realize that being sustainable doesn't have to be expensive. It does not mean that people should stop buying fast fashion, just realize that sustainable fashion is also trendy but lasts longer.  Bringing more attention to these small brands that are trying to do better for the environment, it makes our world a better place. 
Cites: 
Ecothes. (2022, June 13). 21 Best Affordable Sustainable Clothing Brands [2022]. Ecothes. Retrieved June 28, 2022, from https://ecothes.com/blog/affordable-sustainable-fashion-brands
Lam, A. J. (2021, November 22). 5 affordable & ethical clothing brands in Canada to shop. Diary of a Toronto Girl. Retrieved June 28, 2022, from https://diaryofatorontogirl.com/affordable-ethical-clothing-canada/
Staff. (2022, June 1). 11 affordable clothing brands for Sustainable Fashion. The Good Trade. Retrieved June 28, 2022, from https://www.thegoodtrade.com/features/affordable-ethical-fashion-brands
Textiles Tuesday. Waste Reduction Week in Canada. (n.d.). Retrieved June 28, 2022, from https://wrwcanada.com/en/theme-days/textiles-tuesday#:~:text=Overall%2C%20one%20garbage%20truck%20of,cent%2C%20ends%20up%20in%20landfills.