10 Ways to Use Food Scraps
Written By: Ayeh Darissavi
Edited By: Connor Fraser
Designed By: Ayeh Darissavi
Published By: Howie Nguyen
Everyone's familiar with the feeling of emptying out the compost bin under the sink. It smells, it's wet, and it's such a pain to throw out. However, there exist some clever ways that allow you to avoid this smelly situation. You might be hanging on to some onion skins, or carrot ends; whatever the case, let's take a look at 10 creative ways that can give a new life to old kitchen scraps!
Reminder: Be sure to save any fruit or vegetable scraps in a plastic bag or container in the freezer so they can be stored for later use.
10) Fried Potato Peels
Of course, one of the most versatile vegetables in the kitchen also produces versatile waste. Potato skins, when fried or baked, can be used as a soup or salad topping, a crunchy addition to a sandwich, or even eaten alone as a crispy, salty snack! Be sure to thaw out your potato peels, and let them sit in ice water for 30 minutes before frying or baking to create the crispiest result possible!
9) Eggshells for Your Soil
Eggshells are one of the more common discarded scraps in the kitchen. Though, if saved, they can make a great, calcium-dense addition to the soil in your garden! Thoroughly wash your eggshells, and either blend or finely crush them up by hand before spreading them out along your garden. Your plants will thank you!
8) Homemade Vegetable Stock
If you've got a lot of vegetable scraps hanging around your freezer, this one's for you! Dump your vegetable scraps in a large pot with enough water to cover and bring the mixture to a boil, leaving it to simmer with a lid on for a couple of hours. Strain the contents of your pot to complete your silky smooth vegetable stock! This stock can be seasoned to taste and stored frozen for up to 3 months. Great for soups, risotto, or pasta, this homemade vegetable stock will be the best you've ever had!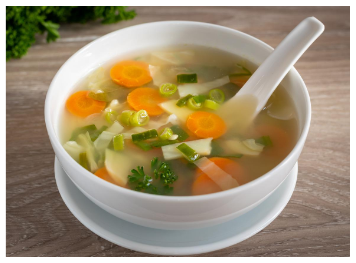 7) Roasted Pumpkin Seeds
If you're a fan of pumpkin pie, or jack-o-lanterns, you may have some pumpkin guts on hand. If so, clean off the pumpkin seeds with warm water and be sure to thoroughly dry them with a towel. Spread your seeds on a baking sheet with your preferred oil, season them up, and bake at 300℉ for 45 minutes (or until golden brown) while stirring occasionally. Especially helpful for after Halloween, this homemade pumpkin seed hack will make for a great, flavor-filled snack!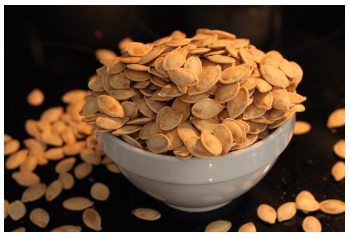 6) Growing Your Own Lettuce
You might think that once your head of lettuce is out of leaves, it's time to throw it out. Nope! To grow more lettuce out of your lettuce hearts, simply place your lettuce heart into a short and wide cup, fill it with enough water to submerge the bottom of your heart, and place it in front of a sunny windowsill. Now, wait a couple of weeks, and you should have a little extra lettuce to eat!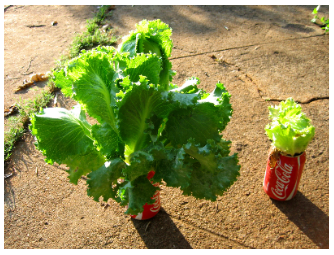 5) Homemade Pickles
If you're not one to drink your pickle juice, try adding your own cut up vegetables to make your own pickles! Once you've eaten all or most of your pickles, chop up some carrots, onions, cucumber, as well as other vegetables of your choosing, and throw them into your pickle jar. Leave them in your fridge for a few days to a week, and you'll have the perfect vinegar-y side dish for your next meal!
4) Mushy Berries? Make Jam!
If you've got some mushy apples or berries on hand, try making some homemade jam! To do this, simply simmer your fruit with some water and sugar (optional) in a small pot until you reach your desired consistency. Be sure to store your jam in a closed container in the fridge once cooled. This homemade jam can be a great way to customize your next breakfast!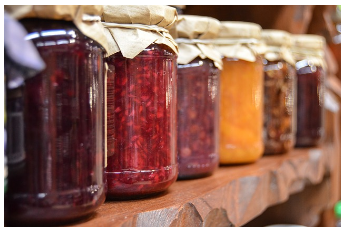 3) Uses for Unwanted Bread
Many people are quite picky with their bread, and this leaves lots of slices to be wasted. Stale bread is super versatile when it comes to reusing. It can be used for croutons, french toast, and even a crunchy topping for a pasta bake! In addition to this, the heel of a fresh bread loaf can be added to a container of hard brown sugar to soften it up. 
2) Hard Cheese
If left uncovered, most moist cheeses can harden up and get quite dry. In order to give these cheeses a new life, try grating your hard cheese and storing it in the freezer. This way, you can easily use up your hard cheese in sauces, soups, salads, and more! 
1) Broccoli Stalks
Broccoli stalks are incredibly underrated. While mostly being discarded, broccoli stalks are very nutrient dense! Be sure to steam them and add them to a homemade broccoli cheddar soup, or eat them on their own. They can also be made into their own dairy-free soup, but just make sure to peel your broccoli stalks as their exterior is very tough and will be hard to chew.
Whichever way you choose to reuse your kitchen scraps, the most important thing to keep in mind is reducing your food waste. Consequently, it doesn't matter if you choose to give a new life to your food scraps or not, but it does matter that you try to cut down on the amount of edible food you throw out. This can also be done by buying only what you'll eat, eating leftovers, and freezing foods that expire quickly. Either way, happy reusing!
References
30 clever ways to use food scraps: The Zero waste memoirs. Zero Waste Memoirs. (2021, November 19). Retrieved June 28, 2022, from https://zerowastememoirs.com/baby-step-17-food-scraps/
Foster, K. (2019, June 8). 6 smart ways to reuse food scraps and leftovers. Kitchn. Retrieved June 28, 2022, from https://www.thekitchn.com/5-delicious-uses-for-common-kitchen-scraps-167760
How to make vegetable stock from frozen veggie scraps. Maddy's Avenue. (2021, April 13). Retrieved June 28, 2022, from https://maddysavenue.com/vegetable-stock-from-scraps/
Reusing food waste, scraps, and leftovers. Move For Hugner. (n.d.). Retrieved June 28, 2022, from https://moveforhunger.org/reusing-food-waste-scraps-leftovers
Figure 1: https://commons.wikimedia.org/wiki/File:20._Oct.2010._Effect_of_diluted_urine_on_lettuce._Classroom~1_(5621515597).jpg
Figure 2: https://pixabay.com/photos/vegetable-soup-bowl-soup-bowl-6322022/
Figure 3: https://www.flickr.com/photos/jaxzin/5129464808
Figure 4: https://www.cookipedia.co.uk/recipes_wiki/Quick_fruit_jam