Many Seedy Saturday and Seedy Sunday events allow for organizations, local businesses, and small scale seed companies to set up display tables as part of the event. Given the opportunity, Seeds of Diversity appreciates having a presence at these gatherings, as they are a wonderful chance to inform thousands of gardeners about our own seedy story, and share information about the importance of preserving our seed heritage. In order to have such a presence, we rely heavily on volunteers to represent us by staffing display tables at dozens of events from coast to coast.
Learn more about volunteering at a Seedy Saturday event
Are you interested? Complete our SIGNUP FORM or email seedysaturdays@seeds.ca with your location and we will work to connect you with a nearby event that we have a table at.
Already a Volunteer?
Please read TABLE SETUP INSTRUCTIONS and FAQ FOR VOLUNTEERS. Also available in one document for download, below, alongside our other printable resources.

A Couple of Notes:
Our Table and the Seed Exchange Table are normally separate: Our Seedy Saturday and Sunday volunteers promote our organization at our display table. The separate Seed Exchange table, which is the heart of Seedy Saturday events, is normally run by the organizers of the events. However, we appreciate your help with advice and seeds at the Seed Exchange if you choose to assist.

If you are offered an honorarium for speaking on behalf of Seeds of Diversity: Some events offer honoraria for speakers. If you are presenting and receive one we consider it to be yours. If you choose to donate it, we gladly give you a tax receipt.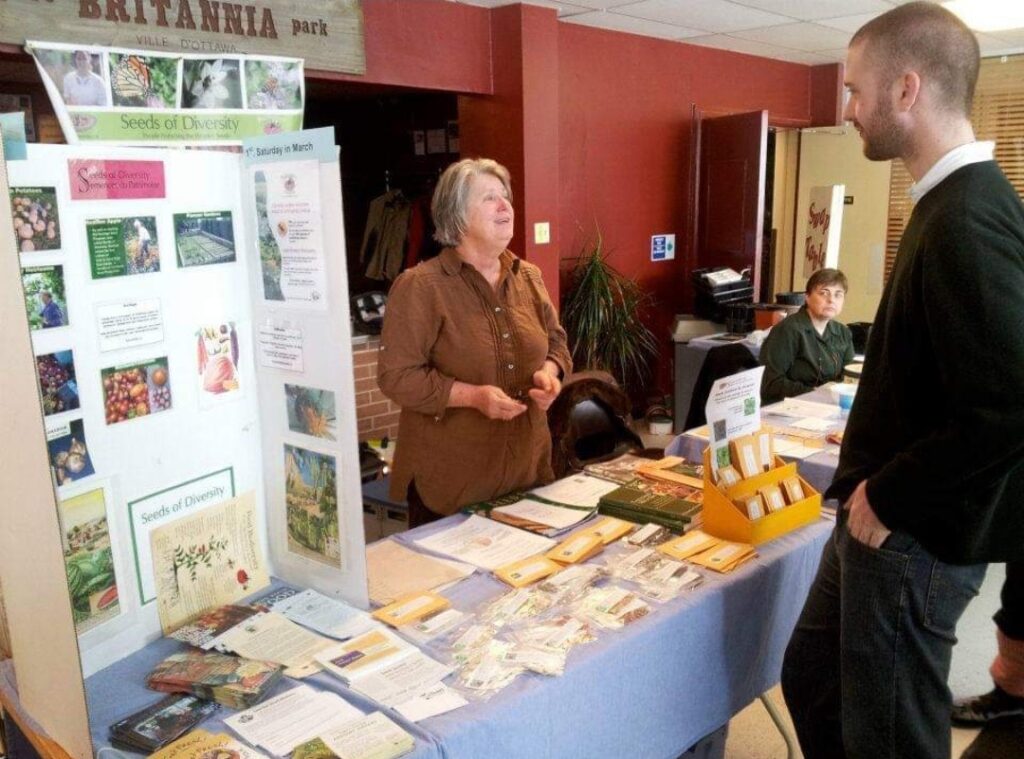 PRINTABLE RESOURCES

If you have access to a high-quality, colour printer, please print and freely distribute the resources highlighted in this table. Click on each thumbnail to download. Otherwise, we're happy to mail them to you. Please email seedysaturdays@seeds.ca or call us (226) 600-7782.

RESOURCES WE MAIL OR FOR PRINT SHOP ONLY

We will mail these resources, as we prefer that they are printed professionally. Alternatively, we can coordinate the printing with you, by providing the files and payment. Please email seedysaturdays@seeds.ca or call us 226-600-7782.