How to Save Your Own Seeds
A handbook for Small Scale Seed Production
The brand new, updated and expanded edition of our extremely popular guide to seed saving is hot off the press!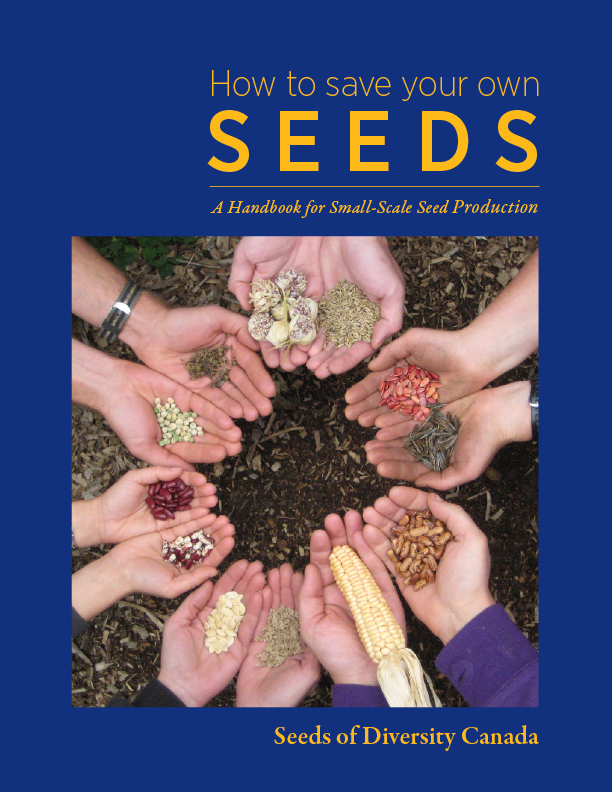 68 pages
Illustrated with over 75 photos
$15.00 (includes postage)
Detailed, step-by-step seed saving and storage instructions
Beautiful illustrations and photographs
Best of new, cutting-edge research and improved techniques
Separate instructions for beginners and experts
Easy-to-follow reference tables and charts for each species
Extra features such as pollinator profiles and seed saving tips
Clear explanations of botany concepts
What's in this book?
Why Save Seed? ~ What's in a Seed? ~ What's in a Flower? ~ What's in a Fruit?
Botany Basics ~ Pollen and Pollinators ~ Tools of the Trade ~ Planning and Isolation
Harvesting Seeds ~ Cleaning Seeds ~ Storing Seeds ~ Overwintering Biennials
Bean Family ~ Beet Family ~ Cabbage Family ~ Carrot Family ~ Lettuce Family
Onion Family ~ Squash Family ~ Tomato Family
For the preservation work of Seeds of Diversity to be successful, our members must know and follow proper seed saving techniques, including how to keep varieties from crossing with each other. If you are planning to save your own seeds and possibly offer them in our Member Seed Directory, we encourage you to order this handbook and learn these valuable and simple techniques.
This handbook is also a popular winter and late-summer item for garden stores and catalogue retailers. Contact our office for information on our reasonable wholesale rates for this book in either English or French editions.
---
180 pages
Illustrated with photos
$35.00 + shipping
Have you ever wondered about the culture of Canada's garden plants, or the history of your own garden? Seeds of Diversity is proud to release our largest collection of stories of seed heritage. Every Seed Tells a Tale - Stories of Plants, People & Places That Have Contributed to Canada's Seed Heritage is the book for you. This book is the ultimate source for seed heritage stories and information that the gardener can use.
It makes a great gift for your gardening friends. Chapters include fascinating stories of heritage vegetables, fruits, grains and flowers. Stories are told of modern-day seed savers who have rescued these precious garden treasures. Our indigenous peoples, pioneers, scientist-breeders, immigrants and others in our past are brought to life in these pages.
Read about:
How the Montreal melon returned to Montreal
How Seeds of Diversity rescued the Arikara Yellow bean
How Red Fife wheat opened the prairie provinces in Canada
How the Mostoller Goose bean got its name
Flower gardens of 100 years ago
The many varieties of tomatoes and potatoes bred here in Canada
First Nations' contributions to our gardens
How today's heroes are preserving our seed heritage
Canadian historic sites and pioneer villages that make garden history come alive
and many other fascinating stories.
Every Seed Tells a Tale is for all of us who are passionate about heritage plants. The stories of Canadian seed savers and their plants can inspire us!
Janet Wallace, Canadian Organic Grower magazine
As far as I'm concerned, Seeds of Diversity is the single best resource for Canadian gardeners interested in preserving a living part of our shared history. Their book is a fascinating read that I'll be keeping on my bookshelf for easy reference for years to come.
Bridget Wayland, editor of Harrowsmith magazine