Note: All volunteer opportunities are dependent on COVID-19 at the time of the event. We will not encourage or endorse volunteer presence in situations that may be unsafe.
Every year, dozens of incredible volunteers staff Seeds of Diversity tables at Seedy Saturdays and Sundays across the country. Thanks to these dedicated volunteers, we are able to inform thousands of gardeners about our own seedy story, and share information about the importance of preserving our seed heritage. Over 40% of new members who tell us why they join report that they first heard about us at a Seedy Saturday.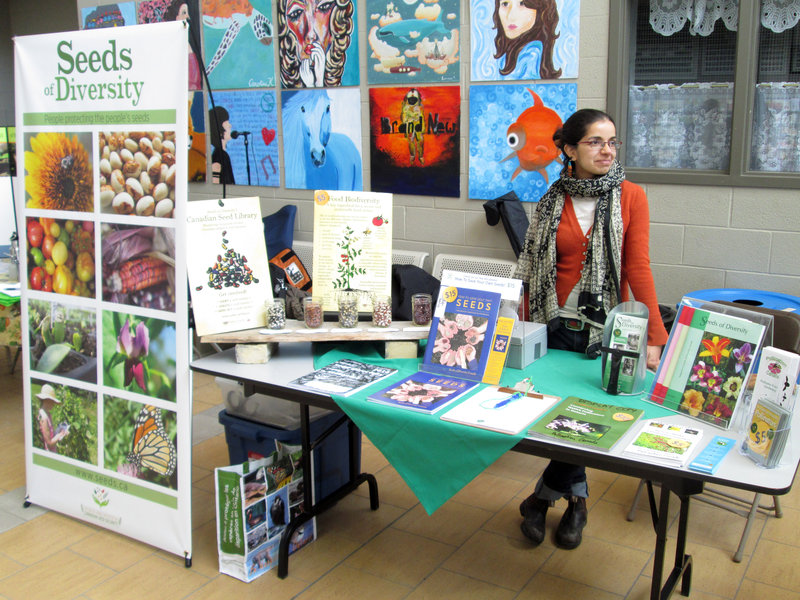 Since we are a national organization with a very small staff, we depend on volunteers to get the word out. Many Seedy Saturdays and Sundays are organized by Seeds of Diversity members, and we're so proud of their work! Our members also help at Seed Exchange tables, and many are involved in local organizations that showcase their own work at the events. This is great, but since Seedy Saturdays and Seedy Sundays are more popular than ever, each year it gets more difficult to find enough volunteers for our own Seeds of Diversity tables.
Would you consider staffing a booth for us? It's enjoyable and interesting!
At a Seeds of Diversity exhibit in London, Ontario, volunteer Frances Thorn said,
"I see a lot of excitement at Seedy Saturdays. Visitors and the exhibitors are so enthusiastic about gardening and happy about the prospect of the coming season. It's like a miracle. People come to your display and love what Seeds of Diversity is about, they become friends and come back year after year. Sometimes there are so many visitors at one time to our exhibit, the atmosphere becomes party-like and that in itself attracts more people."
Another long-time member and volunteer, Shirley Bellows, from Vancouver Island says,
"I always look forward to Seedy Saturday and Sundays. They are always high-energy events plus everyone who is there is smiling and happy. People enjoy coming to our display and are so interested in the fact that some of our members were part of the group that started the first event in 1990. We get thanked for that fact and then they often stay to chat about the various concerns about seeds, GMOs, etc. There is always very positive feedback about our organization. People are usually surprised to hear about our connection with Pollination Canada. At the end of the day, my volunteers and I always feel that we represent a very worthwhile organization and that our volunteer work is a valued contribution to it."
Volunteer Nick Wees, from Vancouver Island, shares how Seedy Saturdays give him a chance to connect with others who care about seed and biodiversity issues.
"Part of what makes doing this volunteer work so great is that I get to help raise awareness about seeds, and the importance of seed-saving using best practices. And, I do a small but vital part in advertising the unparalleled work that Seeds of Diversity does and has been doing for decades – in the process, sometimes recruiting new members. I also get to share my own knowledge and experience with budding seed-savers, and I always learn a great deal from the people who come to our table. But, most rewarding of all, by being able to talk to so many people who are deeply passionate about seeds, I am reminded that I am far from alone in all of this; rather, I know that I am participating in something much bigger than me, than any one of us, something that connects us as much to the past as it does to future generations. For all these reasons, volunteering with Seeds of Diversity is never really work: it is a chance to engage with others over something that I care about deeply and that goes way beyond my own life. Volunteering with Seeds of Diversity is a pleasure and an honour and an ongoing education, which I could not get anywhere else."
We are looking for people who enjoy interacting with others – those who are comfortable chatting with visitors to the table. We will send you the materials you'll need to set up a booth, some helpful hints on replying to questions about Seeds of Diversity and what we do, and we are happy to answer any questions you may have beforehand. See our volunteer page.
Volunteers don't have to handle money or feel any pressure to sign up members. We attend Seedy Saturdays to connect with aspiring, beginning and expert seed savers, and anyone else interested in seed issues. Our volunteers also tell people about our website or share information about us, and if they are interested, folks can find out more and join us later – and they do!
If you'd like to help us out by volunteering at a Seeds of Diversity table in 2023, get in touch! Complete our signup form or write to Rayna at rayna@seeds.ca with the subject heading "Seedy Saturday volunteer". We'll work to connect you with an event we have table space at.