Seedy Saturdays are a remarkable phenomenon. They are not one event, but a series of separate events, which have sprung up across the country, each individually and uniquely organized under the same general themes of encouraging the use of open-pollinated and heritage seeds, enabling a local seed exchange, and educating the public about seed saving and environmentally responsible gardening practices. They usually occur on a Saturday, hence the name, but also occur on Sundays and other days. Read more about Seedy Saturdays.
Seedy Saturdays are fun, inexpensive events where you can swap and exchange seeds, get exciting varieties that other seed savers are sharing (as well as the stories that come with them), attend workshops and talks, meet vendors and buy seeds from seed companies. Whether you are a first-time or master gardener, seed enthusiast or expert seed saver, there really is something for everyone.


Take a look at some images of these lively community events: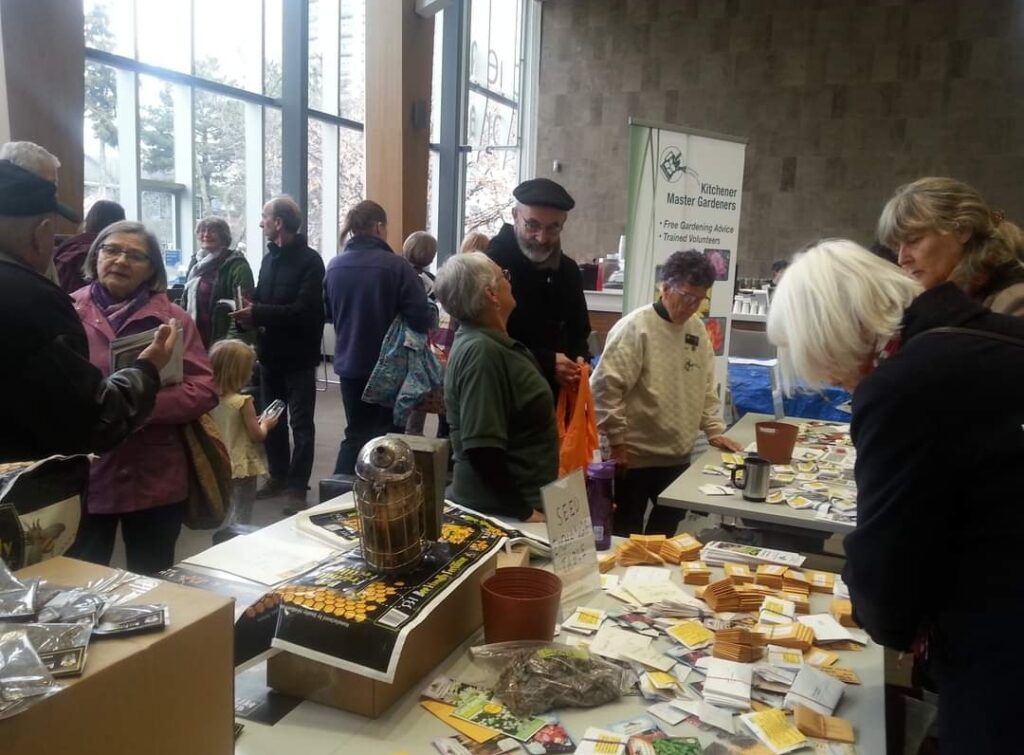 Where can I find a Seedy Saturday near me?
Visit our Events Page for a full listing of Seedy Saturdays (and Sundays ... and other days, plus related seed-themed events) across the country.
Have an event to promote? Email seedysaturdays@seeds.ca and you'll receive a link to the self-promotion Form.
Who Can Host a Seedy Saturday?
Anyone and everyone! Seedy Saturdays have been hosted by individuals, volunteer committees, established public sites, churches, gardening groups, non-profit organizations, farmers, and others. Seeds of Diversity does not organize or host individual events, but helps with event promotions and supports local organizers in a variety of ways:
1) Our Seedy Saturday Handbook for planning and executing an event.
2) Event promotions on our website and social media.
3) Virtual organizer planning sessions.
4) Seed packets.
5) Virtual presentations on food and gardening issues.
Do You Need Volunteers for Seedy Saturdays?
Yes, we do! Our volunteers represent Seeds of Diversity at their local events, ensuring that we are able to have a presence at many of the 170+ events that occur across the country. This is important to us as we know that visitors to Seedy Saturday events are particularly interested in what we do.
Our volunteers are responsible for staffing a Seeds of Diversity table, offering information to visitors about who we are, what we do, and where to go for more information.
Sign Up to Become a Seedy Saturday Volunteer!
Note: Many events are also in need of volunteers for things like setup, running the Seed Exchange table, and collecting donations. We do not coordinate this; please reach out to the organizer(s) of your local event if interested in volunteering in this way.