Nurturing Pollinators from the Soil to the Tree-tops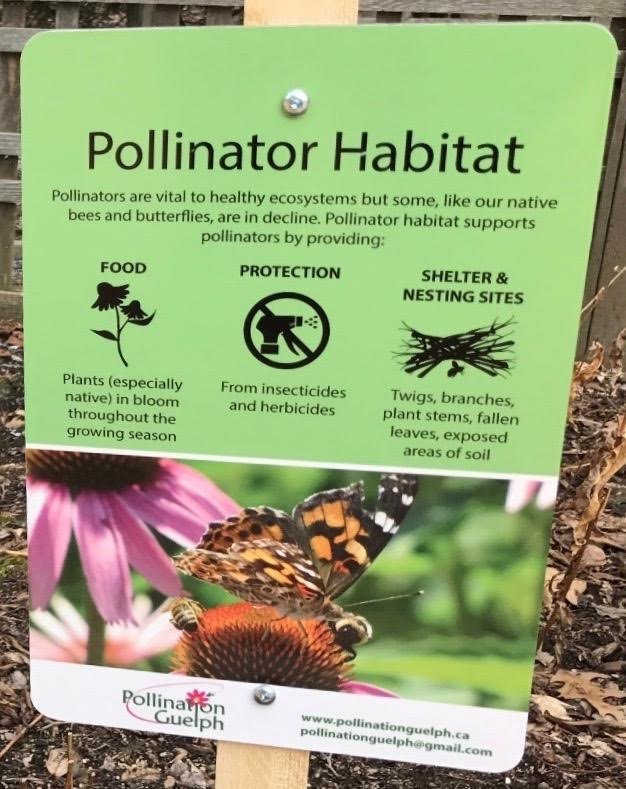 Kim Fellows
On the same day that we turned clocks ahead by an hour, the 11th Annual Pollination Guelph Symposium was held, running with the theme of "Nurturing Pollinators from the Soil to the Tree-tops". Throughout the day, booths held information and items for sale, there was a table for seed swapping, and the annual photo contest entries were displayed for gazing upon and voting.
At the soil level, Hydro One clear cut a section of land along the Silvercreek Park Trail in Guelph, ON in 2015, to remove non-compliant vegetation, which is anything woody growing over three metres. Fortunately, they removed a lot of invasive buckthorn (Rhamnus sp), but nearby residents were upset with the changes, as they lost a lot of privacy. However, Moritz Sanio, Trees for Guelph Coordinator, and Lisa McTaggart, a local landscape architect, spearheaded a community effort to reseed the area with native meadow species the following year. They shared their planting experiences with us, noting that Canada wild rye grass (Elymus canadensis) is a great native pioneer species to secure the site, allowing other native perennials to take over eventually. More rehabilitation efforts are ongoing in conjunction with the City of Guelph.
Clement Kent entertained us with some bee genetics, and Adèle Labbé from the City of Guelph elaborated on the city's natural heritage action plan, stressing what all cities need to know: corridors are important for genetic diversity. In other words, wildlife needs all those urban patches of habitat to be connected.
We swung into the tree-tops with Sean Fox, from the Arboretum at the University of Guelph, who delivered the symposium's keynote talk (Casa Arboreal: The Important Role of Trees & Shrubs in the Lives of Pollinators). Amongst some of the more unusual trees that he mentioned was the first tree in Canada to earn an endangered designation, in 1984: the cucumber tree (Magnolia acuminata). Canada's only native magnolia species has a very limited range in southern Ontario, only occurring in the Niagara Region and Norfolk County. The cucumber tree must cross-pollinate, and that is accomplished primarily by beetles. Regrettably, the cucumber tree is endangered due to deforestation and loss of habitat.
For those of you who are creating new social norms by planting for bees and wildlife in your front yard, it is a good idea to use signage to indicate this intent. Not only does it inform your neighbours of the reason why your yard may look less groomed than others -- that is, natural -- it also provides an ice-breaker to any passersby who are interested in knowing more. The symposium showcased the signs that Pollination Guelph now offer for this purpose. They sell a less expensive corrugated plastic sign, and a more rugged aluminum sign for $20. At the moment, these signs are only available at upcoming events.
--
Kim Fellows is the coordinator of Pollination Canada.
Photo credit Victoria MacPhail.