Pollination Guelph Attracts Expert Speakers … and Bees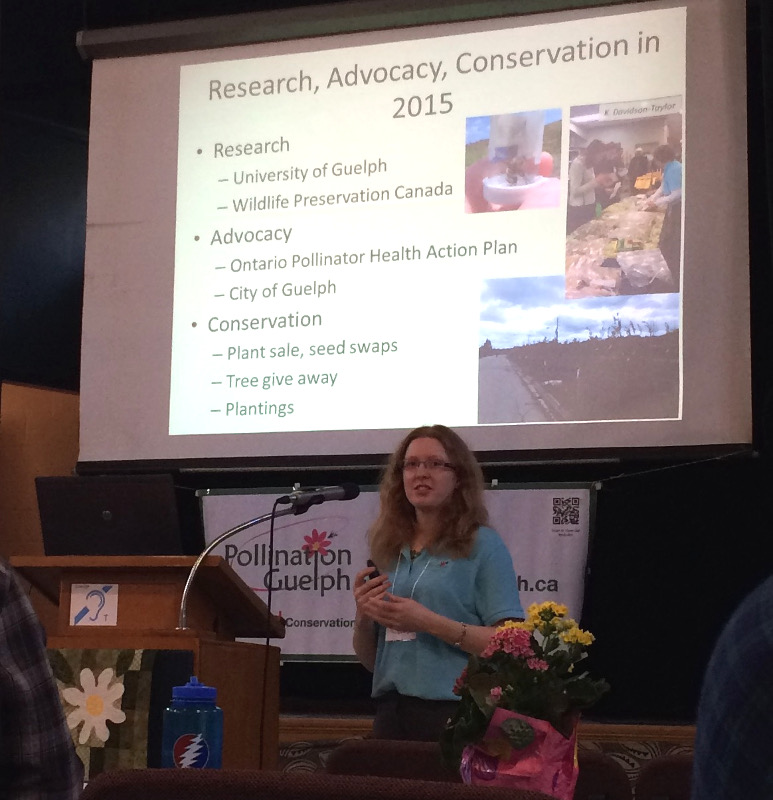 Kim Fellows
The 9th annual Pollination Guelph Symposium was held in Guelph, Ontario on Saturday, April 2nd, 2016. I was grateful to attend, thanks to a Toronto Dominion Friends of the Environment Foundation Leadership Grant.
Pollination Guelph is a group of individuals dedicated to the conservation and development of pollinator habitat for current and future generations. They promote awareness and understanding of the role of pollinators in achieving local and global environmental sustainability. Pollination Guelph showcases pollinator projects that are a model for citizens and communities throughout Canada and internationally. Pollination Guelph accomplishes all their endeavours with no paid staff, relying on the work of dedicated volunteers.
Displays with take-home information included Pollination Guelph, the City of Guelph's Healthy Landscapes (great publications on planting trees and gardening naturally), Not So Hollow Farms, Grand River Watershed, and Cambridge Pollinator Preserve. The preserve was established with help from Cambridge resident Jim Dyer, co-founder of Pollination Canada itself, along with our executive director, Bob Wildfong, and Jim was in attendance, enthusiastically chatting with interested visitors. The symposium even hosted a seed exchange, an activity that most of us treasure.
Pollination Guelph's annual photo contest made a dynamic feature of the gathering. Selected from hundreds submitted in two categories, pollinators, and pollinator-friendly gardens, the finalists were put to a vote by symposium participants, and the winners received gift certificates from two local native plant nurseries.
Victoria MacPhail from Pollination Guelph took the microphone first, reviewing the accomplishments of her organization over the past year, and updating progress on their five main planting projects. Two members of the Ontario Nature Youth Council, Joyce Cheng and Spencer McGregor, reported on their pollinator campaign. This energetic council has been advocating for a ban in neonicotinoid pesticides in Ontario, and they encourage citizens to create pollinator gardens with native plants. The youth council is also quite active raising awareness of pollinators' plight through events and other media. You can check out their resources at Ontario Nature, including a beautiful, downloadable poster featuring native plants, called Ontario's Pollinator Pals, illustrated by a youth council member.
Nigel Raine, who sits as the first research chair in pollinator conservation at the University of Guelph, thanks to the Rebanks family, explained what is known about the impacts of pesticides on bumble bees. Sublethal effects of pesticides are known to negatively affect the motor function, feeding, learning, homing, foraging and reproduction of bumble bees. Dr. Raine stressed the importance of teasing out the effect of pesticides using different kinds of bees, as honey bees have traditionally been used for case studies.
Jim Chaput from the Ontario Ministry of Agriculture and Rural Affairs gave a presentation on Peponapis pruinosa, the native squash bee that has co-evolved with cucurbit plant species, especially squash and pumpkin. The squash bee only consumes pollen and nectar from cucurbit plant species, and is therefore a specialist pollinator. The more farmers know about the squash bee's existence and ecology, the more they can benefit from the 'free' pollination services this native bee offers.
Maureen Temme, a passionate member of the Advisory Committee on Environment in London, Ontario, took the floor to explain how her committee attempted to have the City of London declared a Pollinator Sanctuary. While their efforts are on-going, the recent, fledgling expansion of a program from the U.S., called Bee City Canada, will soon be equipped to help any community across Canada adopt resolutions committed to the conservation of pollinators, especially through the municipal creation of healthy habitat.
The keynote presentation came from Heather Holm, author of a thorough, recently published book called Pollinators of Native Plants. Heather educated the crowd on the benefits of using native plants, the main one related to last month's bulletin article on diversity*: the more native plants in your garden, the more native pollinators you are supporting. Her catchy phrase "It's no trouble to leave some stubble" refers to the conservative pruning of spent stems, such as raspberry. About 30 percent of our native bees nest in cavities, such as hollow or pithy stems. Instead of putting next years' generation of bees at the curb as yard waste -- trim stems down to at least 15 inches (and you can even stick the tops back into the ground randomly, providing further habitat)! Heather has some fabulous resources freely available for downloading on this web site: posters and pesticides.
The symposium concluded with a panel discussion of the Monarch butterfly, that included University of Guelph researcher Dr. Ryan Norris; Monarch Teachers Network Janette Lewis-Cridland; Leslie Work, a teacher from Paisley Road Public School; and, Don Davis, an enthusiast who has tagged butterflies for over 45 years! The estimated Monarch population increased this year, but the loss of the larval host plant, milkweed, continues to threaten this species. Consider planting swamp milkweed (Asclepias incarnata) or butterfly milkweed (Asclepias tuberosa).
Follow Pollination Guelph on their new Twitter account @PollinateGuelph.
*With respect to the March 2016 e-bulletin article More Plant Diversity Equals More Pollinator Diversity, I spoke recently with Gordon Frankie, who said that the minimum number of plants to aim for is 20, discounting the metric we provided from the Xerces Society. Of course that depends on your space and budget.
**
Kim Fellows is the Outreach Coordinator of Pollination Canada. She is grateful to a TD FEF Leadership Grant that allowed her to travel to this conference.