Back to November 2017 Newsletter
Seeds of Diversity's Annual Seed Fest 2017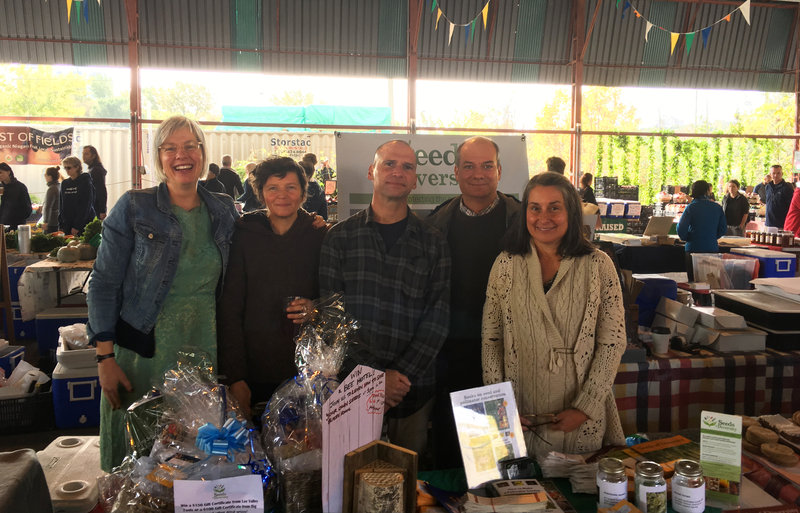 Karen Farmer
Toronto, home to over 230 different nationalities of people, is a city that appreciates diversity. Our Seeds of Diversity board and staff certainly felt valued and welcomed by the people who attended our October Seed Fest and Annual General Meeting.
We gathered at the Evergreen Brick Works eco-centre on a glorious day, and started by hosting a table at the weekly Evergreen Saturday Farmers Market – an event that attracts over 2,000 people. At our information table we met current Seeds of Diversity members, new seed savers, and were able to introduce others to our organization. Seeds of Diversity relies heavily on membership fees to support our seed preservation work, so it was good to sign up some new members.
After the market, our friends and supporters from the Toronto Seed Library and from as far away as Michigan, joined us for our Annual Seed Fest. Seed saving is both a science and an art, and Seeds of Diversity's executive director Bob Wildfong is skillful at sharing scientific knowledge in a creative way. Bob prepared four hands-on learning stations focused on germination testing, maintaining varieties true-to-type, seed cleaning, and making seed bombs and crafts. The room became loud with the buzz of information sharing. To top it off we held a draw for prizes donated by Lee Valley and the Big Carrot Natural Food Market.
We then moved on to a presentation that outlined what Seeds of Diversity does, why our work is so important, and our recent successes. Bob explained that just a few generations ago Canadian farmers and gardeners grew over 35,000 varieties of food plants. However, during the 20th century, three quarters of that food diversity has become extinct. Seeds of Diversity works to keep the remaining seeds, a legacy of hundreds of years of farming, gardening and publicly-funded plant breeding, accessible to Canadians. Last year, over 160 Seedy Saturdays, workshops and our online and printed seed saving resources helped with this effort. We were able to conserve and document 2,341 varieties in our Canadian Seed Library. Seeds of Diversity members also generously share thousands of seed varieties across the country, through our annual member seed exchange.
We were thrilled to elect more talented members to our board of directors at the AGM this year. Matthew Kemshaw of Lifecycles in Victoria; Teprine Baldo, an organic farmer and seed saver from Quebec; and Cathy Harman, a Toronto horticulturalist and banker all joined the team.
The 2017 Seed Fest and AGM showed me, yet again, that there are many who are happy to participate in the dance to nurture biodiversity.
**
Karen Farmer is the chair of Seeds of Diversity's board of directors.
Photo: Some members of Seeds of Diversity's board with executive director Bob Wildfong at the Evergreen Farmer's Market in Toronto, Ontario.