Back to February 2016 Newsletter
The Edible Necklace: Hopniss tubers at the Pollinator Fedge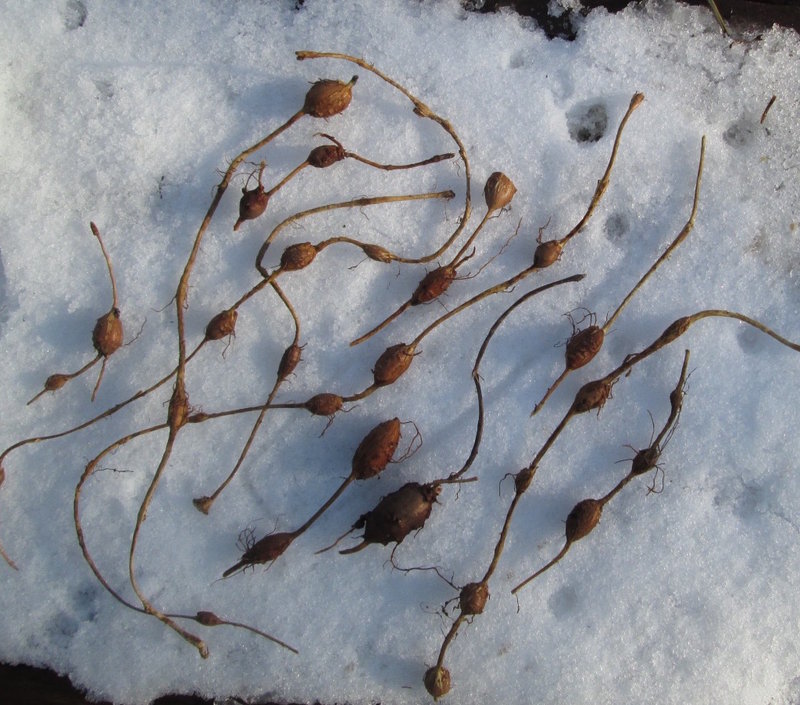 Kim Fellows
Last year, Pollination Canada established a "Pollinator Fedge" in Kitchener, Ontario. I shared the story of how the fedge was instigated at the Salvation Army's Hope and Unity Community Garden, in our August 2015 e-bulletin. In the November 2015 issue, I provided a list of the plants that we have planted in the fedge, and elaborated on one species, Helianthus tuberosus, also known as sunroot or Jerusalem artichoke. Here, I share the story of an unusual vine called hopniss, or American groundnut (Apios americana), which is a companion plant of sunroots.
But first, a quick reminder: A pollinator Fedge is a living fence-hedge that provides habitat for native pollinating and other beneficial insects. Pollinator fedges increase the garden's productivity without chemicals, by increasing biodiversity. The plants grown in our fedge are predominantly native perennials, and have been carefully chosen to offer a continuous nutritious bloom of pollen and nectar, from early spring to late autumn.
Among these are hopniss plants raised by a young, energetic grower named Ben Caesar, who runs Fiddlehead Nursery in beautiful Beaver Valley, Ontario. He offers many edible plants, and this one was well known to the indigenous people of eastern North America. The plant produces tubers in chains along rhizomes, resembling beads on a string. The tubers range from the size of a grape to that of a grapefruit, and can be spherical or ovoid. They were typically boiled in water and/or cooked in meat fat to eat. Hopniss is credited with preventing starvation of the pilgrims at Plymouth Rock in 1620.
Hopniss, though it can self-pollinate, does offer nectar and pollen to pollinators such as leafcutting bees and flies, and it is one of the preferred plants of the Silver-spotted Skipper (a butterfly).
According to well-known forager Sam Thayer, the hopniss tuber grows naturally along the banks of lakes and rivers, sharing a habitat with wild rice, and the grain and tuber eaten together provide a complete protein. Hopniss contains three times the crude protein content of potatoes. Additionally, it contains genistein, an anti-carcinogenic compound that native peoples were aware of, for they made a plaster of the cooked tuber and applied it to external cancers.
Apios americana is a member of the pea family, and as such, it fixes nitrogen. Thus, the sunroot plant serves as a sturdy stalk for the wrapping hopniss vine, and hopniss in turn provides natural nitrogen fertilizer to the sunroot. It also makes sense to plant these species together for harvest. Hopniss is best harvested in the very late fall, after the first frost sweetens the produce. Our harvesting experience at the fedge in early December felt more like the discovery of buried treasure, as we dug each sunroot and hopniss chain out of the snow with wonder and awe.
I placed my 'earthen jewels' in the "cold cellar" in my front yard — a hole in the ground, a couple feet deep, with a natural blanket on top (a large burlap coffee bean bag filled with raked leaves). I am now looking forward to digging them up for a taste – when I do, I'll let you know how they fared.
**
Kim Fellows is the outreach coordinator for Pollination Canada.
Pollination Canada thanks The Salvation Army's Hope and Unity Community Garden and coordinators Jeremy Megit and Harriet Boyd, and the TD Friends of the Environment. Thanks also to Death Valley's Little Brother coffee shop, Balzac's Coffee, Eco-Coffee and the Baden Coffee Company for help with coffee bags, and my carpenter bee (husband) for his skills.