Back to February 2017 Newsletter
My New Favourite Paste Tomato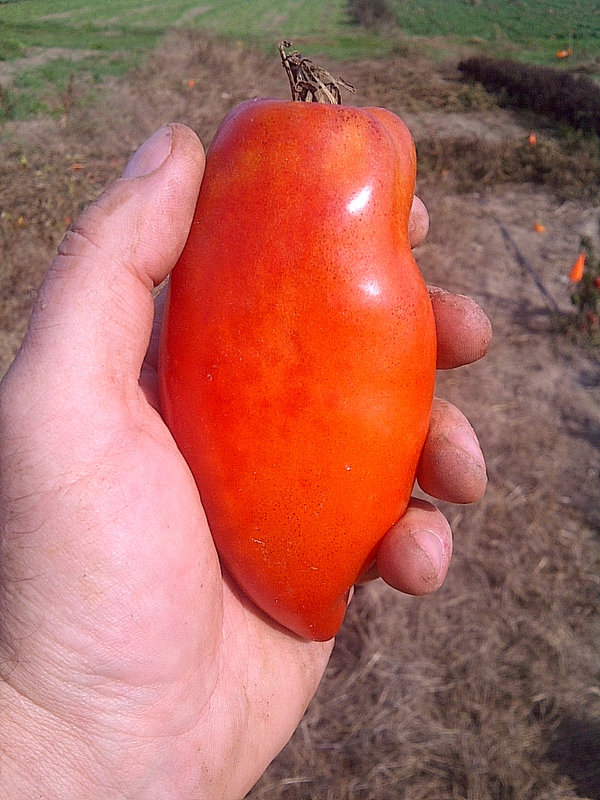 Bob Wildfong
Sometime about 20 years ago I grew a tomato called Howard German, which I'd found at the Landis Valley Museum in Pennsylvania. I must have liked it because I saved some seeds, but back then I was trying so many new varieties that I didn't have space to grow it again.
Last year I found those old saved seeds in the back of a cupboard, and since I never throw out anything that may grow, I put them in potting soil to see if they would germinate. I was pretty surprised when most of the 20-year old seeds sprouted, because most seeds that old don't grow at all.
Then I was delighted when my Howard German plants outpaced many of my other varieties, and had long, healthy vines. And then I was astounded when they grew a heavier yield, and a higher quality, of paste tomatoes than my other favourites. Why didn't I regrow this tomato earlier!
There is not a lot of information available about the Howard German tomato, and very few seed companies carry it. Yet it produces massive yields, the tomatoes are beautiful and very large for a paste variety, and they have a thick dry texture that makes them ideal for cooking into a sauce. Why is this tomato not more well known?
It's All About the Seeds
Howard German is a fantastic paste tomato for all those reasons, but it's missing something. It has very few seeds. That actually makes it an even better cooking variety, but if you think about it, a seed company would have to produce a lot more of these tomatoes to fill every package of seeds that they sell.
For seed vendors, this is a really uneconomical variety for sales, which is probably why so few companies carry it. But it's a perfect variety for home seed savers. If you only have to save a small number of seeds yourself to regrow the Howard German tomato in your garden each year, that's pretty easy to do while you slice them up in the kitchen.
Seed savers can easily grow a lot of great varieties that don't fit the economics of the seed trade, and the Howard German tomato is a perfect example. That's why seed saving matters so much, and it's why our members support Seeds of Diversity and its programs.
Once I discovered how much I liked the Howard German tomato, I knew I should save as many seeds as I could and offer them through our Member Seed Directory. I think that's what motivates our members to share seeds: they find something they like and they want others to discover it too. You can search our online seed directory to see all the seeds our members are offering. We hope you'll find something interesting and, as a renewed member, enjoy trying some new varieties offered by our seed savers.
**
Bob Wildfong is the executive director of Seeds of Diversity