Back to February 2017 Newsletter
Seeds of history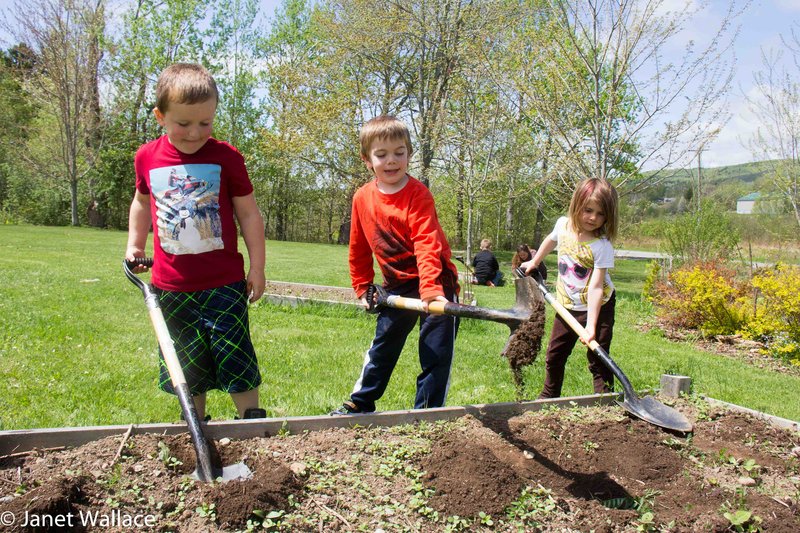 Janet Wallace
Learning about history can take so many forms. You can read about treaties and monarchs in a textbook, or learn about victors and battles by visiting monuments. But another way, which we often don't think about, is to appreciate stories from our past in the garden and at the dinner table.
While eating sauerkraut made from Tancook cabbage, for example, you may learn about the immigrants who came to a small Nova Scotian island. They brought cabbage seeds from "the old country" and started making, and then selling, sauerkraut. At one point, this island business was Canada's major supplier of sauerkraut. Barrels of sauerkraut were sold to seafaring ships and to logging crews, because sauerkraut was considered to prevent scurvy and provide nutrition while at sea and during long Maritime winters.
Inspired by this and other stories, a group of gardeners are getting together to plant Tancook cabbage and other heirloom vegetable varieties in gardens at two elementary schools and two museums in New Brunswick this spring. The plants, and the meals created from the vegetables, will provide learning opportunities for students and museum visitors. The cabbage story, for example, teaches us about the time when sailing ships were an important means of travel and transport, about food preservation using lacto-fermentation, and about nutrition – we all need the vitamin C in sauerkraut! Most importantly, however, we want to emphasize how the Canadian diet, and Canadian culture as a whole, reflects contributions from First Nations, past settlers and recent immigrants. We will do this by sharing the stories of seeds from Atlantic Canada.
This project began in 2016, when I started collecting seeds and stories with support from the Bauta Family Initiative on Canadian Seed Security. I grew out several varieties at a museum garden and at an elementary school. The project generated interest, and to celebrate Canada's 150th year, we decided to expand it. A francophone community of gardeners in Kent County, NB, got together to plant heirlooms and share stories at several public gardens, including two elementary schools, the Albert County Museum in Hopewell Cape and le Musée des pionniers de Grande-Digue.
We are looking for seeds and stories. If you have seeds that have been passed down for generations in Atlantic Canada, please get in touch with us. If you have stories about a certain variety or an age-old gardening practice, we would love to share your stories – even if you have no seeds. Please contact me at garden@albertcountymuseum.com.
If you are in New Brunswick this summer or fall, be sure to stop by and visit our gardens. The Albert County Museum is near Hopewell Rocks and the Bay of Fundy. Le Musée des pionniers de Grande-Digue is on the Northumberland Shore between Shediac and Bouctouche.
The 2017 project is funded in part by the Government of Canada and conducted in partnership with the Albert County Museum, Pays de Cocagne Sustainable Development Group and Musée des pionniers de Grande-Digue.
For details about the project, see https://www.albertcountymuseum.com/seed-stories-1/. We will be updating the website throughout the project.
**
Janet Wallace is an organic grower, freelance writer and editor. Her garden overlooks the Bay of Fundy in New Brunswick.