Back to January 2017 Newsletter
Your New Online Member Seed Directory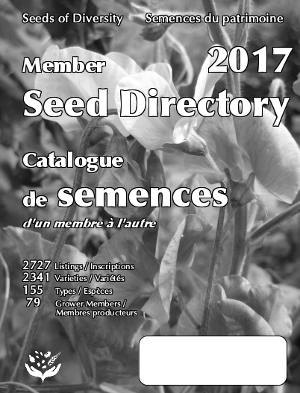 Seeds of Diversity members are offering more than 2300 different kinds of seeds to other members.
Join Canada's largest member-to-member seed exchange and discover seed diversity in your own garden. All members are welcome to request seeds. If you are new to seed saving, go ahead and request some seeds that you would like to learn to save. Test your harvest for a year or two until you gain confidence that your saved seeds are good quality, then share them with other members.
If you are not a member of Seeds of Diversity, you can join today!
Members can also choose to receive a printed copy of the Seed Directory
How to Use the Member Seed Directory
Start by choosing from the categories on the left. Our seed saver members offer a lot of seeds, so there are lots to choose from.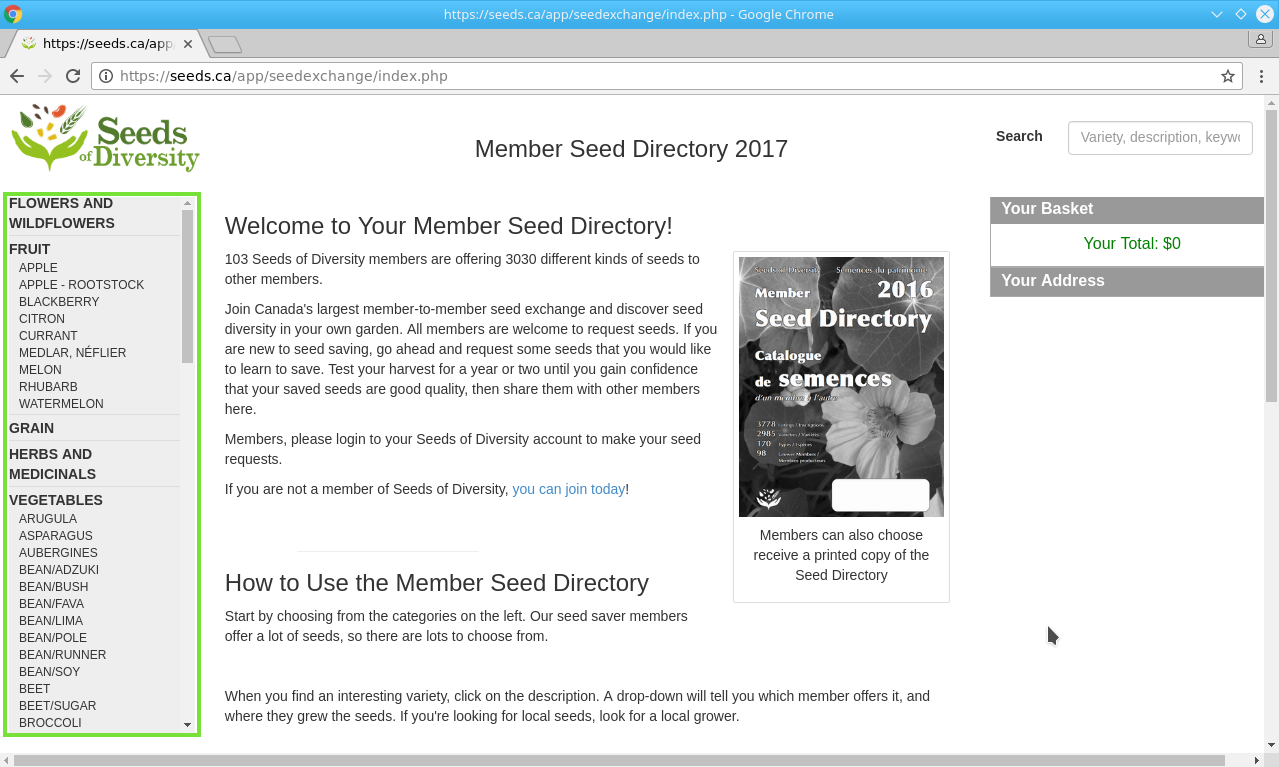 When you find an interesting variety, click on the description. A drop-down will tell you which member offers it, and where they grew the seeds. If you're looking for local seeds, look for a local grower.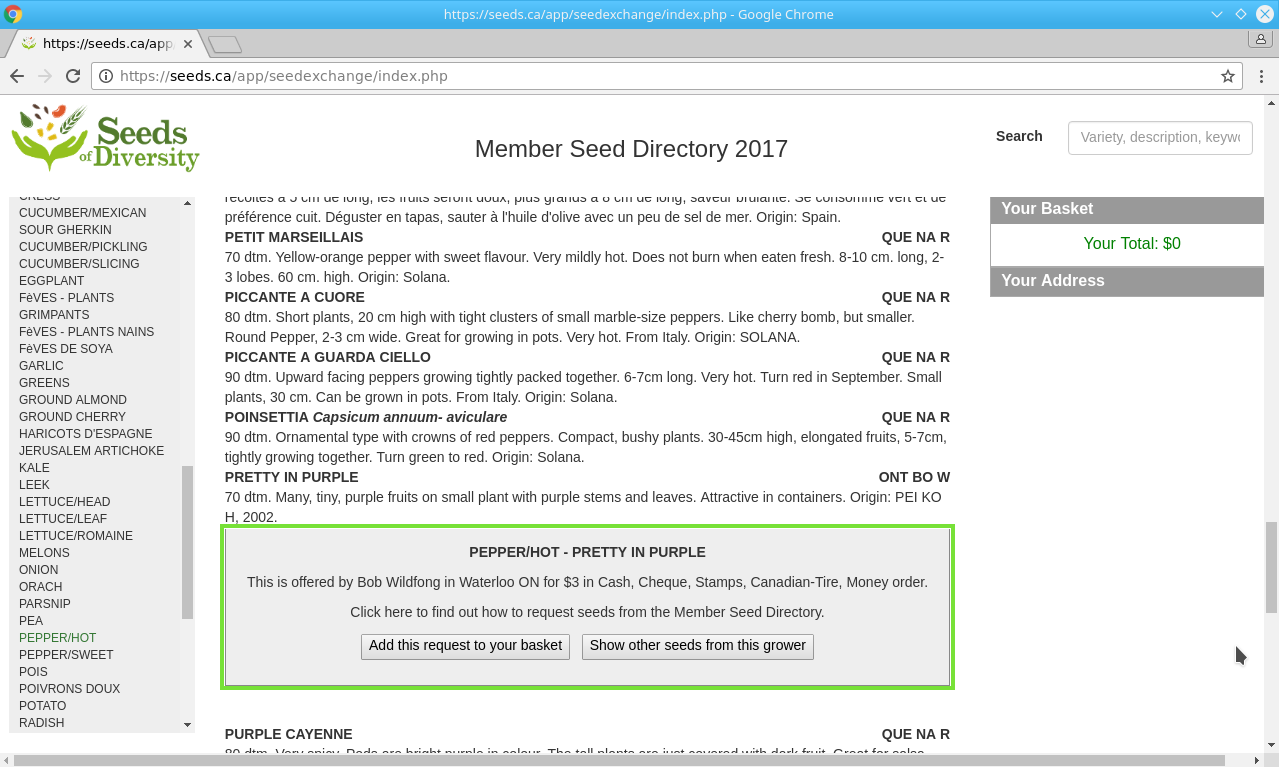 You request seeds directly from the grower member, and they will tell you how they accept payment (e.g. cash, stamps, Canadian Tire money). We make it easy to keep track of your orders by giving you a basket. Add your requests to your basket - you can remove them if you want - and when you're ready you can make your order.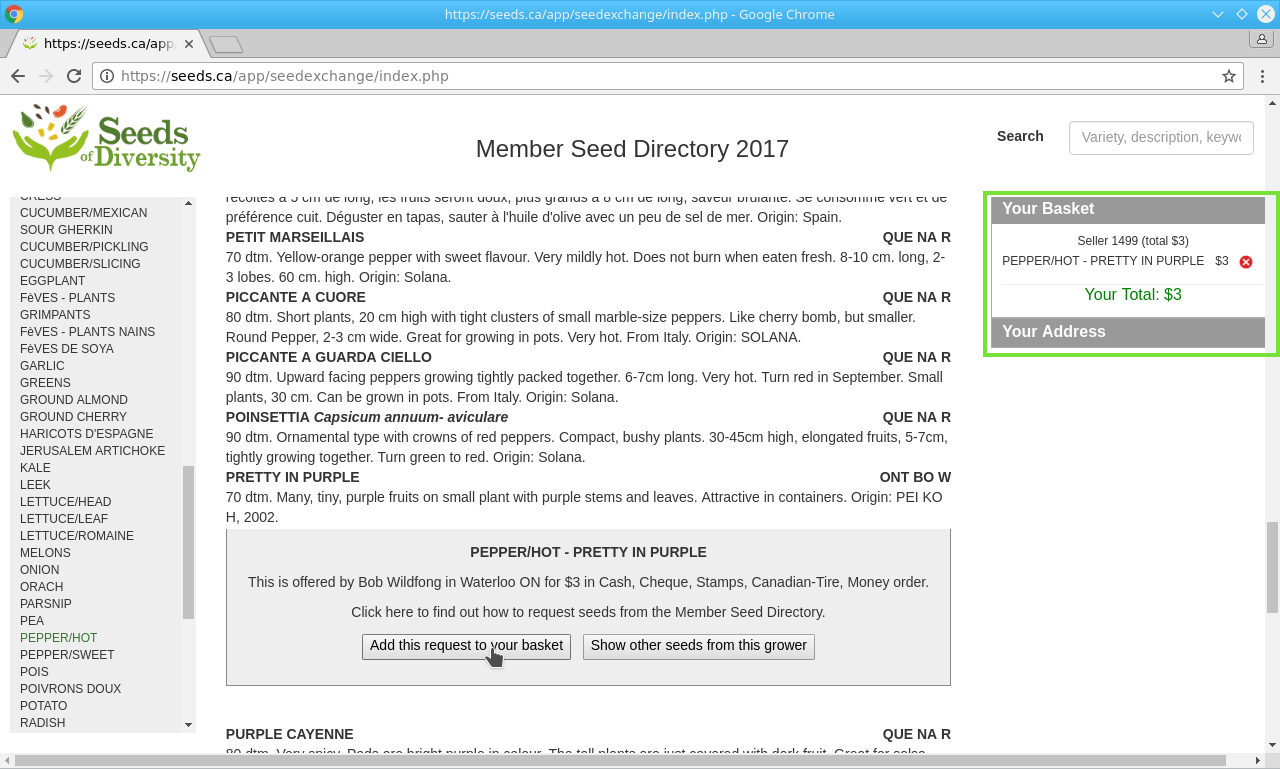 This is different from the usual online shopping cart, because our member seed savers are mostly regular gardeners, not companies, so they can't accept payment with credit cards. Instead, when you check out, we will help you fill in a form that you should print and mail directly to each member with their payment.
Participation in our member seed exchange is the best way to get to know other Seeds of Diversity members from coast to coast, and to get acquainted with the larger seed saving community. We hope you enjoy browsing this directory, meeting other members through the mail, and learning to save Canadian heritage seeds!
Check the payment methods accepted by each grower member. Some members may accept payment by cash, stamps, or "Canadian Tire money".
Prices
Members who offer seeds receive a discount on seed requests
If you are a regular member
If you are a grower member
(offering seeds in this directory)
Seeds e.g. beans, corn, peas, lettuce, tomatoes, peppers, lettuce, grains, squash, etc.

$3.50
$2.50

Roots and cuttings e.g. potatoes, garlic, onions, Jerusalem artichokes, etc.

These require parcel post, which is significantly more expensive. Please contact the grower to ask how much they charge.

$12.00 suggested but please contact grower before paying
$10.00 suggested but please contact grower before paying