Back to September 2022 Newsletter
Seed Libraries Across Canada - A Series
In a previous article, we shared the stories of a couple of Seed Libraries in Canada - Naramata and Calgary. Since that article and a social media post about it, we've heard from a number of other individuals and organizations spearheading similar efforts all over the country.
So, we've officially decided to make this a series! Considering there were at least 50 Seed Libraries sprinkled across Canada as of 2015, and that number has almost surely risen since then, this could be a very long series!
It is fantastic to read about and chat with the growing number of feed 'em fighters and peas keepers among us (Both of those hilarious terms come from this wonderful paper by Katherine Berger of York University about the making of the Toronto Seed Library).
Simply put, a seed library is what it sounds like - a physical location of some kind in which people can obtain seeds for free. This is purposefully vague because they're so individual; they differ so much from one to the next. And the 'physical location' part has become fuzzy amid COVID. In general, though, all seed libraries share a few common features:
Physical location - like a conventional library, a seed library has an established spot (or spots) to go in order to participate.

People - also like a conventional library, a seed library is typically meant to be accessible to anyone in the community.

Obtain - again, like a conventional library (are you seeing a pattern here?) a seed library provides the desired items, for free and usually through a borrowing and lending system. There are probably rules surrounding how many items (seed packets) you can take at a time and whether you are required/encouraged to return the items (seeds) at the end of the season.
The main function centers on the protection and public access to seeds.
Here are two more Seed Libraries in Canada, and another that is no longer operating in its original capacity but that we couldn't miss highlighting:
Ottawa
Founded in 2020, the Ottawa Wildflower Seed Library provides free native seeds, defined as plants that have evolved naturally in a particular region, before European settlement.
Native plants have closely evolved over thousands of years with our butterflies, bees, and insects; some are even dependent on a specific native plant to eat, live, breed and survive. Foreign and human-modified plants have been introduced faster than they can adapt.
Gardening with native plants is about restoring our relationship with our ecosystem and making gardening choices that go beyond plants' aesthetics to heal our environment. Cultivating and eating native plants supports the decolonization of our gardens and food.
The seed library will start distributing free seeds this fall during events held across the city. Visit them on their website, Facebook, Twitter, or Instagram to learn more.
If you are interested in starting a seed library in your community, you can email wildflowerseedlibrary@gmail.ca to receive some guidance.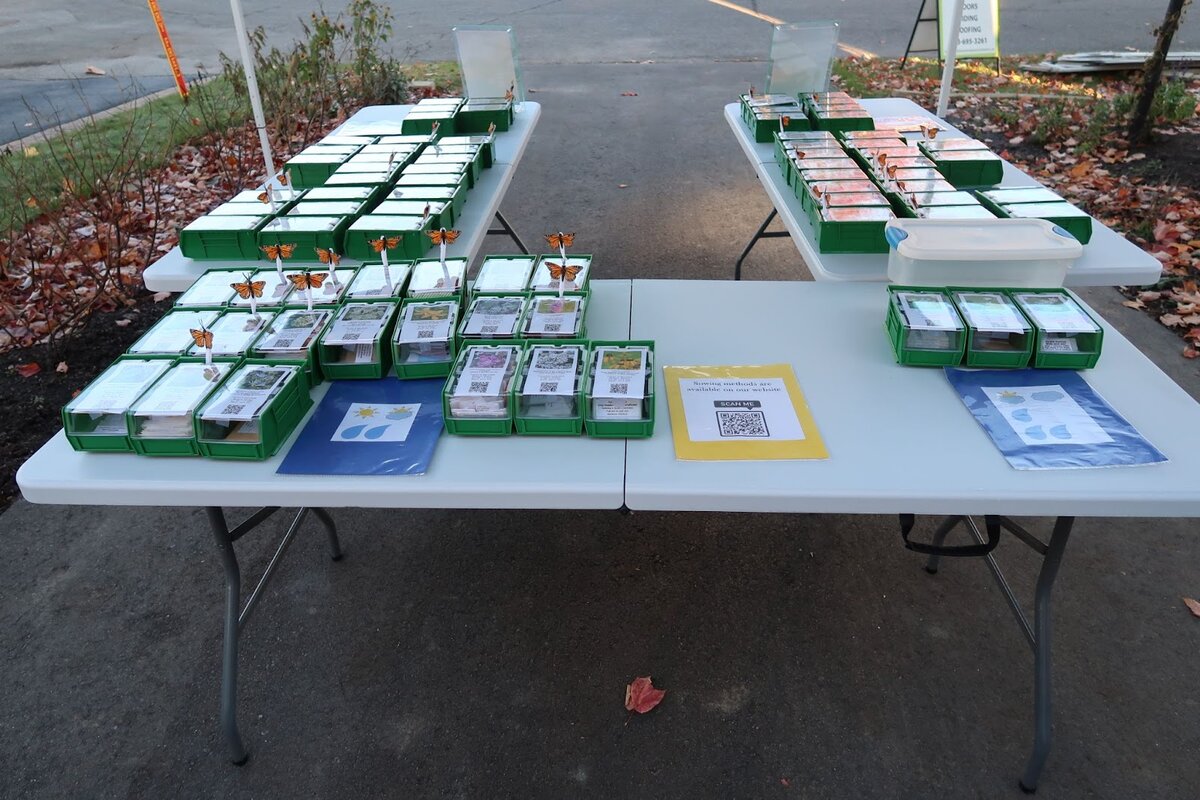 Halifax
At the beginning of the pandemic, Ayla Fox, a civil servant and artist working and living in Halifax, was (like so many) getting more into gardening in her patio garden. As she was trying to find a local seed library, she couldn't find one near her with a prominent online presence, so she started her own - the Halifax Peninsula Seed Library!
It's a very casual operation. Folks donate seeds and Ayla tries to keep the website updated. When people ask for seeds, she arranges either an in person (socially distanced) handoff, deliver them to mailboxes if they're within walking distance, or leave them in her mailbox for pickup.
Anyone interested in connecting or participating can check out the Library's website or Instagram.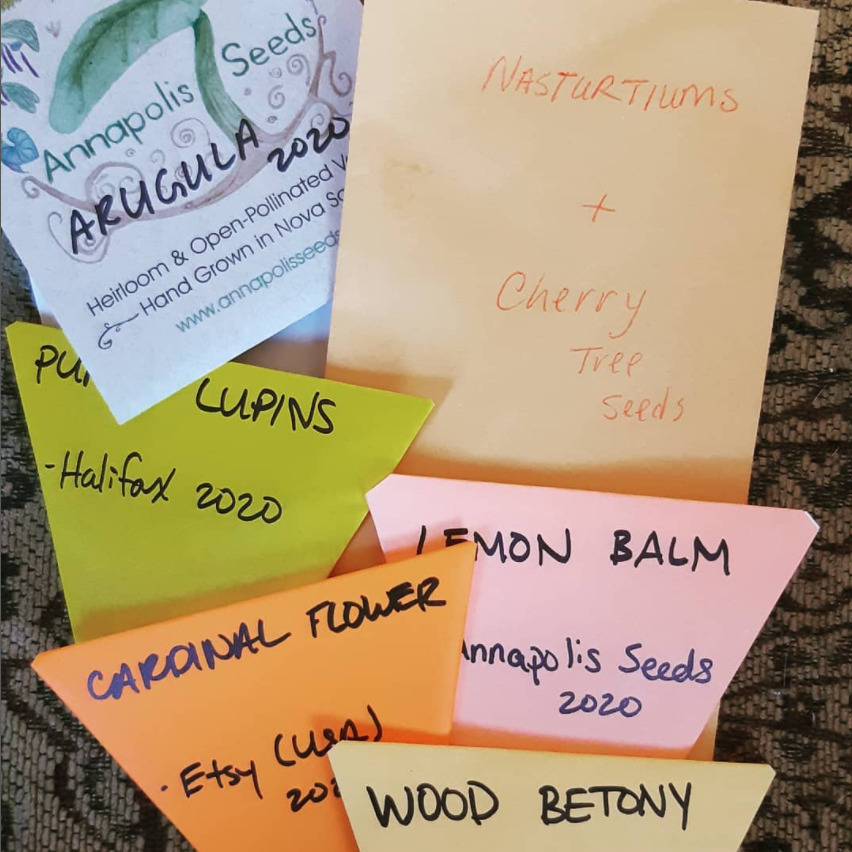 Saskatoon
The Saskatoon Seedy Library is no longer in operation, but has a lovely story we decided was worth sharing:
"The Saskatoon Seed Library involved dozens of classes of kids and teens, and community groups. We had the support of a food security agency, CHEP Good Food, the Saskatoon Food Bank and Learning Centre, a Newcomer settlement agency that worked with teens, teachers at both the Saskatoon Public and Catholic school divisions, five local library branches, and dozens of community volunteers. We were supported by the Ternier family of Prairie Garden Seeds. We grew, saved and distributed thousands of seeds from nine local varieties of vegetables.
Community volunteers of all ages and cultures helped by gardening and harvesting seeds, labelling and stuffing envelopes, and giving away seeds at our popular Seedy Saturday and at Saskatoon Public Library branches. Participants shared ideas as they learned about local and global seed security challenges at the presentations we shared. Volunteers seemed to love playing their part as biodiversity champions.
The Saskatoon Seed Library is no longer running, but our equipment is now being used by CHEP Good Food Inc., and the Saskatoon Public Library still offers a seed exchange at their check out counters across the city.
A seed library is a rewarding endeavour, and working with seeds seems to connect people in meaningful and magical ways."
--
Photos: Beans by Jen Edwards; Wildflower Seed Library from the Ottawa Wildflower Seed Library; Packets from the Halifax Peninsula Seed Library.