Where has the Quebec Gourgane bean gone?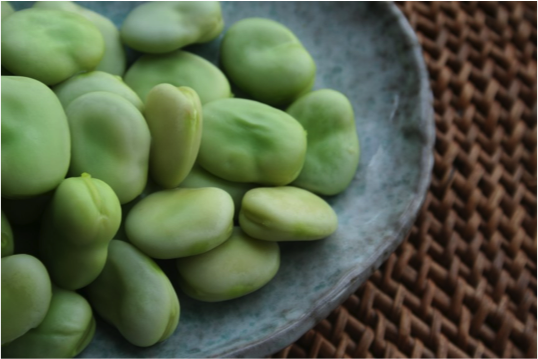 Lyne Bellemare
Last spring, I received an envelope in the mail. It was a padded envelope, and, suspecting that it contained seeds, I opened it quickly. I have always liked surprises. A few bumpy and not quite round beans emerged from the package. The 'Little Lake Gourgane' bean is a Quebecois variety still offered by some local seed companies Although it has not been part of my menu in the past, the fact that 2016 was the year of legumes made me want to experiment and shine a light on this old bean variety.
Better known as the broad bean or fava bean, the gourgane has been cultivated for nearly 9,000 years and is said to originate from the Middle East. Chinese texts dating back 5,000 years make reference to it, and we know that the Gauls used it a thousand years before our era. It also appears to have been consumed in the form of flour.
In the 18th century, a period of great changes and important discoveries, the great Spanish explorers returned from the Americas with shelling beans and potatoes on board. Following this, the consumption of the fava bean in Europe began to decline, in favor of these new varities. In New France (the french-colonized region of North America), however, the fava bean was introduced at the beginning of the colonization. Nutritious and not very demanding to grow, it became part of the regional cuisine, and was often left to simmer on a fire all day while workers were in the fields. Since then, fava bean soup has been a typical regional dish of the Charlevoix and Lac-St-Jean regions in Quebec.
More recently, although the fava bean has been neglected, it has not disappeared, and is still used in Middle Eastern and North African cuisine, and grown in Europe. Although it is now uncommon elsewhere in Quebec, it can still be found in the Saguenay, Lac Saint-Jean and Charlevoix regions. The primary varieties grown are 'St-Paul Bay', 'Minica' and 'Primo'. The municipality of Albanel has held an annual gourgane festival since 1974.
The fava bean is part of the legume family. It is an excellent source of fiber and protein and has a very high content of vitamin C and folate. It also provides iron, phosphorus, potassium and magnesium. Beans can be consumed fresh or cooked. It can also be dried in its pod and stored, or frozen for later cooking. It is best to blanch the fresh beans to remove their seed coat (which is bitter) and to reduce the cooking time.
Large-seeded varieties are native to northern African, and are mainly used for vegetable cultivation. It should be noted that 'Green Windsor' (Prairie Garden Seeds, Thompson & Morgan) remains green even after being dried, unlike most varieties, which turn brown. The Spanish 'Aquadulce' variety (Stokes) produces smaller plants with longer pods up to 25 cm in length. Small-seed varieties are native to Afghanistan, and are often grown to produce green manure or livestock feed.
But what about the varieties of Quebec? Where has the Charlevoix gourgane gone? My research into Canadian seed databases, and in both old and new catalogs, found that our heritage gourgane varieties are sadly not available anymore. Other than the "Petite du Lac" variety I received in the mail (and which is also being offered by a grower-member in Seeds of Diversity's 2017 member directory), it was impossible for me to get a hold of open-pollinated varieties that would have been grown in Quebec.
I leave you with the famous recipe of the Lac St-Jean Gourgane soup. If you know of anyone still cultivating the Charlevoix or Lac St-Jean gourgane, or if you have them, contact us at info@semences.ca. We can help you save and share your gourganes from avoid falling into oblivion.
Thanks to Olivier of Semences du Batteux, for sending me these beans.
Traditional Lac St-Jean Gourgane Soup
Ingredients
10 cups of water
1/2 cups coarse salt
1/4 cups savory
1/2 cups preserved salted herbs*
1/4 cup barley
1 medium onion, thinly sliced
1/4 to 1/2 pound bacon fat, cut into large pieces
1 1/2 to 2 pounds of fresh or frozen gourgane fava beans
Pepper to taste
Place all ingredients in a large saucepan and bring to a boil.
Reduce heat, cover and simmer until the beans are tender, about 2 to 3 hours.
*Herbes salées or herbs preserved with salt are a traditional Quebec seasoning that is often used to flavour soups.
**
Lyne Bellemare is Seeds of Diversity's french program coordinator.
**
Further reading (in french)
Article sur la gourgane, Feuille de chou Printemps-Été 2011, page 5 : https://ville.montreal.qc.ca/pls/portal/docs/page/prt_vdm_fr/media/documents/feuille_chou_printemps2011.pdf
Feuillet technique : https://www.agrireseau.net/legumeschamp/documents/02-9207.pdf
Site web, Festival de la gourgane : http://www.festivaldelagourgane.com/
Encyclobec – Article sur le thème Société et Institution – Le pays de la gourgane : http://encyclobec.ca/region_projet.php?projetid=248
Recette : Tartinade de gourgane et de noix de pin : http://www.metro.ca/recettes/tartinade-de-gourganes-aux-noix-de-pin-et-parmesan-frais.fr.html