Bulking Up: VSPN in the field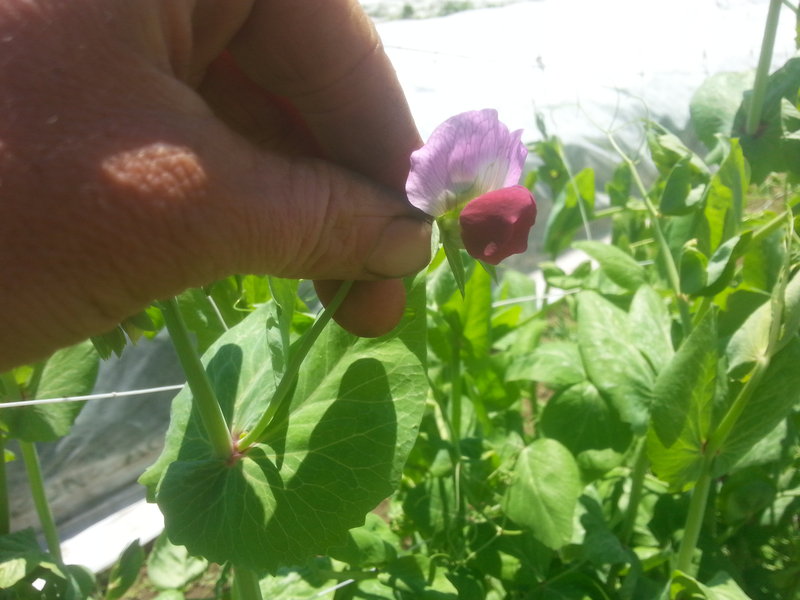 Paul Hrycyk
The Vegetable Seed Producers Network (VSPN) is up and running!
The network now has 39 members, who have planted 11 varieties of vegetables this year. The list includes beans, cucumbers, lettuce, melons, peas, peppers, tomatoes and winter squash. Each of the skilled seed growers who make up the membership of the VSPN will be producing a few varieties of seed according to industry best practices. These seeds will then be pooled, to build farm-scale seed stocks of locally grown, open-pollinated crop varieties in Ontario.
The process of choosing these varieties involved a number of steps. We began by asking several farmers, market gardeners and other growers about their best performing and favorite vegetable varieties. Thanks to some extremely valuable feedback, the list of recommended varieties grew to nearly 200 names.
We then highlighted all varieties that more than one grower suggested. These became potential candidates for our final list. We also shortlisted varieties that are not available from seed suppliers in quantities larger than small garden packets, those that are regionally adapted and appropriate for Ontario's growing conditions, and those that exhibit unique qualities such as disease resistance or fast maturing fruits.
These selection criteria helped us narrow the list of potential varieties to about 20. We then researched these 20 varieties and their characteristics further, and had a final round of consultation with growers, to come up with our final list of 11 varieties of eight vegetable crops that VSPN members will be growing out in 2015.
Going forward, this list will expand each year, based on similar criteria and the advice and suggestions of member growers.
| | | |
| --- | --- | --- |
| Crop | Variety Name | Variety Information |
| Bean | Black Valentine (bush) | Extremely tolerant variety, prolific and dependable. |
| Cucumber | Long Green Improved | A very old variety that was the most widely grown slicing and pickling variety for decades since its original introduction in 1842. It was bred as a selection of an even older variety, 'Long Green Turkey,' that dates back to prior to 1778. |
| Cucumber | Shintokiwa | Slender, smooth skinned Japanese variety. Crisp and productive. Very uniform and disease resistant. Described by a trial tester as "flowery, buttery and delicious." |
| Lettuce | Bronze Arrowhead (red oakleaf) | Slow to bolt. Very consistent population. Heat and cold tolerant, and resistant to downy mildew. Performs well in almost any condition. |
| Lettuce | Jester (red and green crisphead) | Cross between Reine de Glaces, Merlot and Flashy Troutback. |
| Melon | Collective Farm Woman | Cool-weather melon perfect for short-season gardeners and especially suited for northern growing conditions. |
| Pea | Carouby (snow pea) | Produces some of the largest pods, often reaching 5-6 inches in length. Carouby is more heat tolerant than many pea varieties. |
| Pepper | Queen of the North | Adaptation of the classic "King of the North" pepper but dwarfed in all aspects. Cold tolerant Queen of the North is a super productive yet compact plant (usually about a foot tall). |
| Pepper | Lipstick (sweet) | Early producer and farm favorite. Harvest full week ahead of other bell peppers. These ruby red pimiento-type peppers are some of the sweetest, most delicious available. |
| Tomato | Bizhiki | Started with the hybrid Buffalo and selected for taste by VSPN member Cory Eichman, these delicious tomatoes are named the Anishnabe word for Buffalo. Bright red, globe shaped fruits are 5-8 cm or greater with no cracking. An excellent example of farm selected, regionally adapted seed. |
| Winter Squash | Algonquin Pumpkin Squash | Very rare. This old heirloom is similar to Long Pie Pumpkin but the fruits are slightly smaller. The long green fruits look like zucchini and continue to ripen in storage for long periods of time. Smoky, nutty, rich and sweet taste. |
In addition to these varieties, some VSPN members are also growing crops that are not on this list, such as carrots, spinach, zucchini and oats. These varieties will be closely monitored and tracked over the course of this season, using our crop descriptor forms. Particularly suitable or productive varieties may be added to the list in following years.
As new members join the network and the VSPN expands, so too will the list of crops and varieties being produced. The people growing these seeds know them best, and through their recommendations and observations, this list will transform to serve the needs and preferences of vegetable growers across the province.
If you are interested in becoming a member of the VSPN, have feedback on the 2015 list or suggestions for the 2016 variety list, or if you would like to help identify regionally adapted varieties, please contact us at growers@seeds.ca.
**
Paul Hrycyk is the project coordinator of the Vegetable Seeds Producers Network.
Photo: Carouby pea flowers.

This project was funded in part through Growing Forward 2, a federal-provincial-territorial initiative. The Agricultural Adaptation Council assists in the delivery of Growing Forward 2 in Ontario.