Back to February 2017 Newsletter
A Truly Seedy Celebration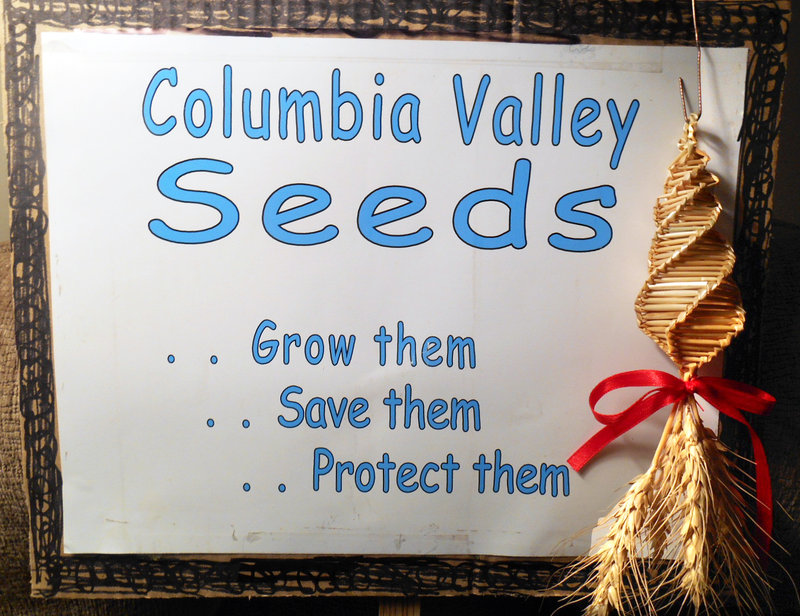 Jean Dakin
Last night, 40 women left their menfolk at home and came dressed in their PJ's and nightcaps to celebrate my 80th Birthday. It was a wonderful evening of games, music, laughter, memories and delicious food. One of the highlights of this stellar evening was a Raffle for one of ten "Yorkshire Spirals," woven from wheat successfully grown in our backyard. It was my pleasure to grow the wheat, weave it, and donate the proceeds of the raffle to Seeds of Diversity Canada.
I first heard of Seeds of Diversity Canada in a CBC radio program shortly after the organization had become a living entity, and I was immediately caught up in the vision of having a national seed-saving program involving gardeners from across the country. My first memory of saving seeds is at age three, sitting high at our 12-seat family table with my brothers to roll out the largest wheat seed from the piles and put it in a special bucket. It was then planted in spring in a prepared area of the farm, where it would be watched for superior traits. Except for a few staples, our farm was self-sustaining, and wheat that matured earlier and produced more per acre was prized. Seed was expensive, and every crop – whether it was a grain or vegetable – was examined with the same interest, particularly if it showed some different characteristics that might prove beneficial. This interest in producing our own food and our own seed (and telling everyone about it) is still with me.
Our heartfelt thanks to Seeds of Diversity for their commitment to seed diversity all these years. We are proud to have six of our Columbia Valley seeds in the SODC seed libray. Saving seed in BC's Columbia Valley is challenging, as our growing season is very short. Last summer, gardeners in some areas reported a killing frost on June 6th, which means we are lucky to be able to harvest mature bean seed every few years if the weather cooperates! This only makes it more important than ever to try to establish acclimatized seed that will be somewhat more resistant to cold.
We left our acreage in Parson, BC, when we moved to the town of Golden, so no longer grow enough seed to list in Seeds of Diversity's member directory. But we still save seed in our borrowed backyard gardens and share it with the many gardeners in Golden and Area who are so enthusiastically involved in growing everything from carrots to quinoa. One of the pleasures of summer is taking an evening to cruise the back alleys and appreciate the appearance of a number of new vegetable patches. Talking to gardeners about all the reasons that saving our own seeds is so important, and working with them and their children to help grow healthy vegetables, has contributed to our somewhat limited but continued mobility. We are now planning our 2017 gardens and seed seminars, and looking forward to digging up those parsnips as soon as the frost leaves the ground and having the first taste of the pepper grass, lettuce, and spinach plants that will spring up everywhere… all by themselves.
**
Jean Dakin is a committed seed saver and long-time member of Seeds of Diversity Canada.