Back to November 2016 Newsletter
The Year of 100 Tomatoes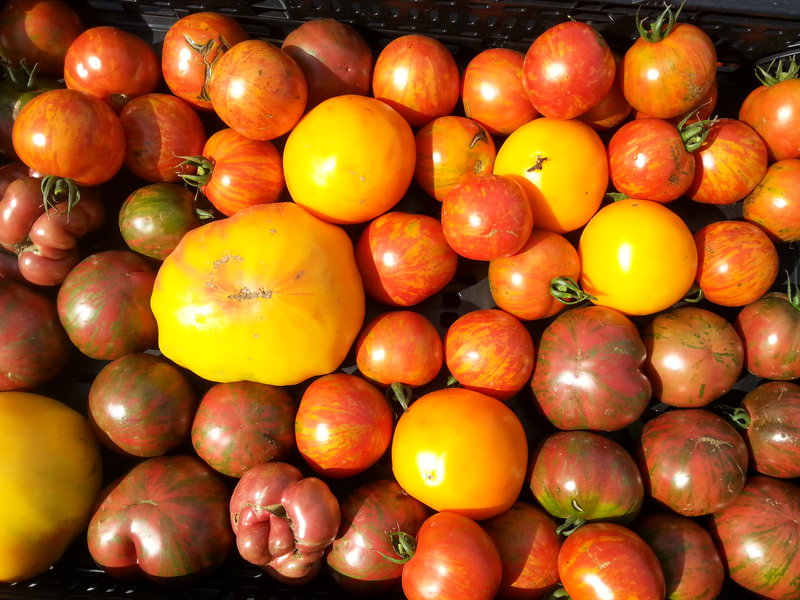 Angie Koch
Ruffled Orange. Dwarf Red Heart. Old Timey Looney. Amazon Chocolate. Yellow Ping Pong. Ferris Wheel. Marvel Stripe. Fireball. Tomatoes names are so descriptive! Yet, beyond their names, there is often little we knew about many of the tomatoes in our collection.
This summer, 53 fantastic and dedicated volunteers across the country helped us grow out 102 different tomato varieties from our Canadian Seed Library.
Grow-outs such as these are important not only to refresh aging seed supplies in storage, but also because they help us learn more about the characteristics and quality of the seeds we are saving. Because seeds often come to us from uncertain sources, it takes committed growers a season of observation to provide useful information about a variety's growth habits (and determine if the seed even grows true!).
This year, after identifying some of our rarest and longest-stored seed, we mailed out samples to the volunteers who had committed to growing 20 plants of each variety in their gardens. At four square feet per plant, this translates into each volunteer dedicating 80 square feet of precious garden space to the project! They watched as the plants grew, removed diseased plants and off-types, and recorded detailed observations and measurements every step of the way. And of course, at the end of the year, our growers carefully collected and saved seed from the best plants to send back to us, making sure we keep the seeds in our collection viable and healthy.
Despite the drought and harsh weather conditions of this summer, seeds and data are now starting to pour in. We have received at least 250 seeds per variety, which we will split into two samples per variety, one marked for redistribution and the other for long-term storage in our permanent collection.
Our Seed Library is home to thousands of seed varieties – many of which are due to be grown out soon. Let us know if you have the space, skills and experience to be a volunteer grower. And if you can't grow seed for us, you can still help support our Canadian seed heritage. This Giving Tuesday, donate to expand our grow-outs for 2017. We'd love to identify, refresh and trial at least 150 vegetable seed varieties next season – be one of the growers or donors to help make it happen!
**
Angie Koch is Seeds of Diversity's Seed Library coordinator.