Our Handbook: How to Save Your Own Seeds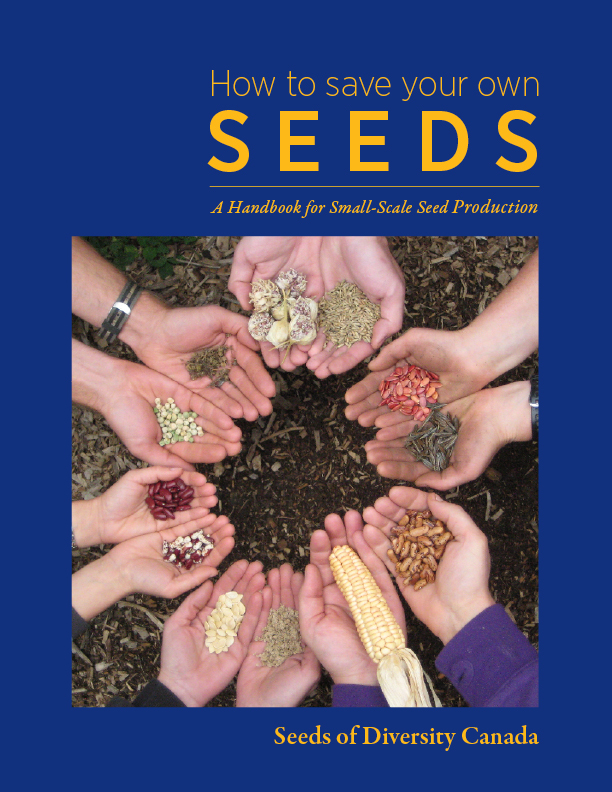 Do you want to learn how to save seeds for the first time? Or have you saved seeds before, but feel you could brush up on your knowledge? Or perhaps you have been saving seeds for years, but want to know more about the botany behind the practice, or more about a particular vegetable you have never saved seeds from before. Well, whatever your experience-level, this is the perfect time of year to learn a bit more about seed saving, and we think we have the perfect tool to help you out.
Seeds of Diversity's inexpensive but comprehensive handbook, How to Save Your Own Seeds, is designed for all enthusiastic gardeners
who are looking for a thorough starting point to save seeds, as well as for experienced seed savers who want to deepen their knowledge, or just want a handy reference guide. All you need to do is arm yourself with a copy of the book and head outdoors. Summer is an excellent time to learn, because you can see the flowers, fruit and seeds forming right in your own garden.
The sixth and most recent edition of How to Save Your Own Seeds was updated in 2013, and includes detailed, step-by-step seed saving and storage instructions; improved techniques; illustrations and photographs; and clear information about all the basic botany concepts you need to know. There are also some extra tidbits scattered through the book, such as tips and profiles of pollinators. The book is divided into sections by vegetable family, with separate instructions for beginners and experts, and each section has an easy-to-follow reference table with information on isolation distances, pollination type, level of difficulty for seed saving, seed longevity, and the minimum number of plants that you need to grow to maintain genetic diversity in your saved seed. Experienced seed savers frequently tell us that they love the handy quick-reference guide that combines all this information at the back of the book.
For the preservation work of Seeds of Diversity to be successful, our members must know and follow proper seed saving techniques, including how to keep varieties from crossing with each other. If you are planning to save your own seeds and possibly offer them in our Member Seed Directory, we encourage you to order this handbook and learn these valuable and simple techniques.
You can find out more about How to Save Your Own Seeds at www.seeds.ca/publications, and you can order the book for yourself or as gifts for fellow gardeners at www.seeds.ca/store