Back to November 2015 Newsletter
Seeds Bridge the Research and Farm Communities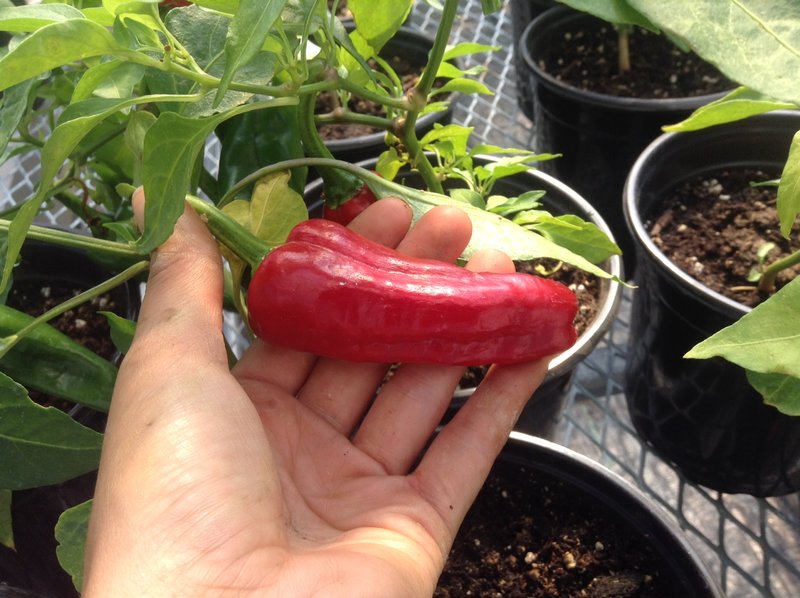 Stephanie Hughes
Campus greenhouses at the Université Sainte-Anne are home to a project that will help increase Atlantic Canada's seed security. Last spring, the university – having received an internal grant – teamed up with The Bauta Family Initiative on Canadian Seed Security and local farmer Gilberte Doelle of Wild Rose Farm in Digby County, Nova Scotia.
"The project's objective is to study and test different types of vegetables, with the goal of determining what grows well for seed purposes in an organic environment and in specific meteorological conditions," explains Amélie Constantineau, volunteer coordinator of the project.
Seeds for the project were secured from Doelle, as well as Seeds of Diversity's seed bank in Waterloo, Ontario, and the Atlantic Canada Regional Seed Bank, in Truro, Nova Scotia. The heritage varieties of Italian tomatoes, cherry tomatoes, hot peppers and cucumbers are especially interesting because the data collected from them will be accessible to the public through Seeds of Diversity's online Seed Explorer program. "The extraction of seeds is a meticulous and arduous job, especially for Italian tomatoes because they are big and juicy and only produce a few seeds'' says Constantineau.
The seed harvested from the project will be sent to the contributing seed banks, where it will be made available for further grow-outs, experimentation, and production by other growers. The university is one of many contributors to the Atlantic region seed bank, which was launched in 2014 at the Dalhousie University Agriculture Campus. Administered jointly by ACORN and Dalhousie, the seed bank was established to benefit growers in the region by increasing their free access to diverse, ecologically grown seed, adapted to producing seed in the short maritime growing season.
The bank currently holds just 23 varieties of vegetable and grain crops. With the participation of more than 20 growers, including Améllie and her crew, the bank stands to nearly double its inventory, adding 18 new varieties at the end of this harvest season. According to Nabil Abboud, director of the science department at Sainte Anne: ''Through this project, Université Sainte-Anne helps increase the quantity and the variety of high-quality seeds that are stored in a secure manner and available to the public.''
Loss of biodiversity is a global problem. However, this project is a great example of farmers, non-profit organizations, and academia coming together to create community-centred solutions.
**

Stephanie Hughes is the Bauta Family Initiative on Canadian Seed Security's regional coordinator for Atlantic Canada.
Photo: Jemez peppers growing at the Université Sainte-Anne.