Introducing Bee City Canada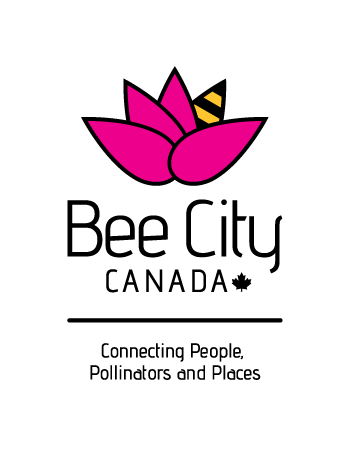 Kim Fellows
Happy Pollinator Week! This is a great occasion to highlight a new program that can have a big impact on our pollinators: Bee City Canada (BCC). BCC supports the establishment of sustainable habitats for pollinators in communities across the country.
Urban areas that are properly managed can serve as havens for dwindling wild bee populations. For example, Ontario is a biodiversity hotspot for wild pollinators, with 409 of 855 nationally recorded bee species – the highest bee diversity of any province. Ontario's capital city Toronto has recorded over 300 of those species!
The idea of a 'Bee City' comes from pollinator advocate Phyllis Stiles, who is based in North Carolina, USA. She founded Bee City USA four years ago, to foster ongoing dialogue in urban areas about the vital role of pollinators, and what each of us can do to provide them with healthy habitat.
In November 2015, an inspired citizen named Shelly Candel approached the city of Toronto to convince them to become the first Bee City in Canada (which they did on March 31st, 2016), thus initiating the birth of BCC.
Cities (or any municipal centre) can become a Bee City by completing an application and passing a resolution that includes a set of pollinator-friendly commitments. Requirements include:
Assigning a staff liaison person to facilitate the BCC process, and associating that liaison with a committee that sponsors the BCC program. The committee can be made up of individuals from organizations, city staff and residents.
Completing the application form.
Adapting the resolution to reflect the city's goals and accomplishments.
Submitting the application and resolution forms to BCC.
Once the application and resolution are approved, city council votes on it to adopt the final designation.
The city's commitments as a Bee City affiliate, in addition to establishing pollinator habitat on municipal lands, include:
Publicly acknowledging the city's commitment through signage and web content.
Annually celebrating their Bee City status with a proclamation and public awareness activity.
Reporting on the year's activities to renew their status as a Bee City.
What are the Benefits of Becoming a Bee City?
A Bee City is part of a North American movement.
A Bee City is a role model for its residents, raising awareness of important diverse pollinators and the benefits of using native plants in habitat protection.
Pollinator habitat creates beauty.
A Bee City begins conversations about the importance of local food production.
A Bee City improves its municipal environment, and the physical and mental health of residents by connecting people with nature, and encouraging healthy, clean food consumption. Healthy citizens equal healthy, productive cities!
Are there costs involved in BCC? The only extra cost incurred by the city is for signage, but these costs can be covered through sponsorship. Otherwise, there may even be cost savings over the years, as perennial native plants don't require water once they are established, in contrast to annual ornamental plants.
**
For More Information:
To view the application and resolution, please visit Bee City Canada and scroll down to Five Simple Steps to Becoming a Bee City.
A Bee City is a city committed to protecting and enhancing its wild bees and other local pollinators. Although honey bees are important pollinators, Pollination Canada and Bee City Canada focus on the benefits of native bees in the urban landscape. Some emerging research cautions against the introduction of too many honey bees in urban centres; this is a topic we will explore in a future bulletin article.
Kim Fellows is Pollination Canada's outreach coordinator.