Back to January 2023 Newsletter
Seed Libraries Across Canada - Part 4
Rayna Almas
It's been a year since the article that sparked this series was posted (huge thanks to Mary Cosman in Fernie BC!), and almost a year since the first official edition of the Seed Libraries Across Canada series was posted. Throughout 2022, I had the pleasure of learning about and connecting with over a dozen seed libraries spread out from coast to coast, and have compiled a hefty list of about 20 more that I'm eager to reach out to in 2023. The more I search, the more I find. It turns out that community seed library initiatives are everywhere, and like so much of the important work being done in the seed saving realm, there's a veil of invisibility for those not involved in the efforts.
"A Seed makes itself. A seed doesn't need a geneticist or hybridist or publicist or matchmaker.
But it needs help. Sometimes it needs a moth or a wasp or a gust of wind.
Sometimes it needs a farm and it needs a farmer.
It needs a garden and a gardener.
It needs you"
- From 'The Seed Underground' by Janisse Ray
(and found on The Northern Seed Library webpage)
Take my own experiences as an example. I lived in Hamilton ON for over a year before learning about the Community Free Seed Library operated by the Hamilton Community Food Centre (scroll down to learn more). Similarly, I visited the Royal Botanical Gardens in Burlington almost every day with my dog and didn't know about their seed library for months and months.
How many seedy initiatives exist in your neck of the woods, unbeknownst to you? You might be surprised. That's one reason this series exists - we think it's important to recognize and bring attention to the seed sharing initiatives that are out there. Each has a story, and amazing humans doing what it takes to protect genetic diversity in our food systems and promote public access to seeds.
So, let's head on another journey to learn about three more such projects:
The Richmond (BC) Community Seed Library
We are the Richmond Community Seed Library, located in Richmond, British Columbia. Our library features a collection of seeds donated by community members and organizations. Last year, we started two cover crop seed programs to help our local gardeners improve their soil and to provide support for gardeners who need to take time off from gardening due to work, family, and health issues.
Our library started 15 years ago and has grown to become Richmond's Community Seed Program. The Seed Program is one of the many community programs run by Urban Bounty, formerly known as Richmond Food Security Society. The aim of our program is to build local seed capacity through education and community engagement.
The library supports local gardeners and community organizations in their efforts to share and maintain the knowledge and skills of seed saving. We believe that seed saving and exchanging promotes food access and security by encouraging the community to keep and exchange seeds that are affordable and locally adapted. This practice also allows community members to understand food production up close and experience food culture differently. Everyone is welcome to our library. Just send us a message and we will get in touch!
Twitter: @urban_bounty
Facebook: @urbanbountyrichmond
Instagram: @urbanbountyrichmond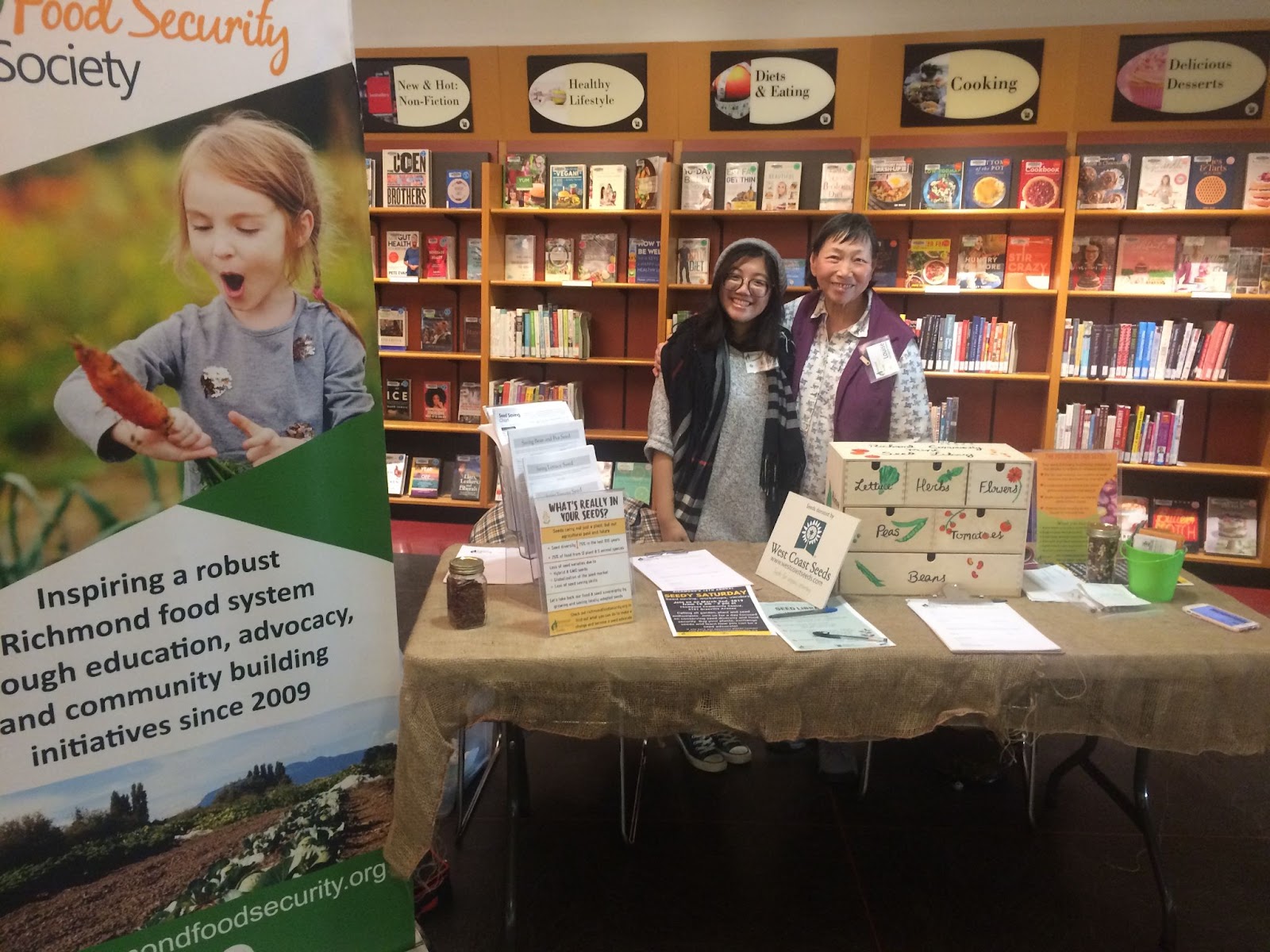 The Northern Seed Library
The Northern Seed Library is a collective of gardeners growing, saving, and freely sharing Northern-grown seeds. Their mission is to grow a network of seed stewards that can easily access a catalog of free, community-maintained, heirloom & open-pollinated seeds that are being adapted to a short and cool growing season. Members select varieties from the library's online catalog to steward, grow them out, and return seeds in the fall. The library's members are spread across Canada and make up a community that is passionate about seed saving, seed sovereignty, and food biodiversity. The library hosts seed swaps on social media and provides online seed saving resources. They love working with small, local seed companies to provide free seeds and education to public libraries, schools, community events, community gardens, horticulture clubs, and more.
Find more information on Instagram, the library's website, or email seedlibrary@shaw.ca
Community Free Seed Library (Hamilton ON)
The Hamilton Community Food Centre has a Community Free Seed Library that offers donated seeds from conventional growers (William Dam, McKenzie) as well as seed that we have saved in our communal garden programs. Our seed library is reflective of the diversity of our community and people are getting to know the library as a resource for getting seeds that may be difficult to find elsewhere.
Some of the seeds that we have grown, and are offering in the library include tomato, grain amaranth, basil varieties, molokhia, hot peppers, smooth bittermelon, squashes, heat-tolerant lettuce, kale, storage beans, popcorn, and ceremonial tobacco. The community of gardeners that gather in our garden programs are interested in building our collective seed-saving knowledge and skills and adding more saved seed to the library each year.
In 2022, we launched the seed library and had approximately 50 people come through to get seeds for their gardens. People using the library are growing in balcony gardens, back-yard gardens or community garden plots.
The seed library is free to use for anyone in the community, and we do outreach through our garden programs as well as other programs that happen at our Centre (for example the Intercultural Community Kitchen program and our free community meal programs). Library users are not asked to return seeds at this time, but they are invited to join sessions where we learn about best practices for saving seeds. The seed library is an outreach tool that we use to invite people into our garden programs where they can learn and teach others. A book lending library is also available for people that want to learn on their own.
Our community demographics include a higher proportion of low-income/fixed-income earners, newcomers, and refugees, and many folks in our community have food insecurity as part of their experiences. We want to provide spaces for people to practice their skills and learn more about food sovereignty. We aim to meet the specific needs of community members that have limited time to spend learning/practicing gardening skills.
The goals with the seed library in 2023 are to expand our international seed offerings, host more seed saving workshops, and to further build our network of folks interested in gardening.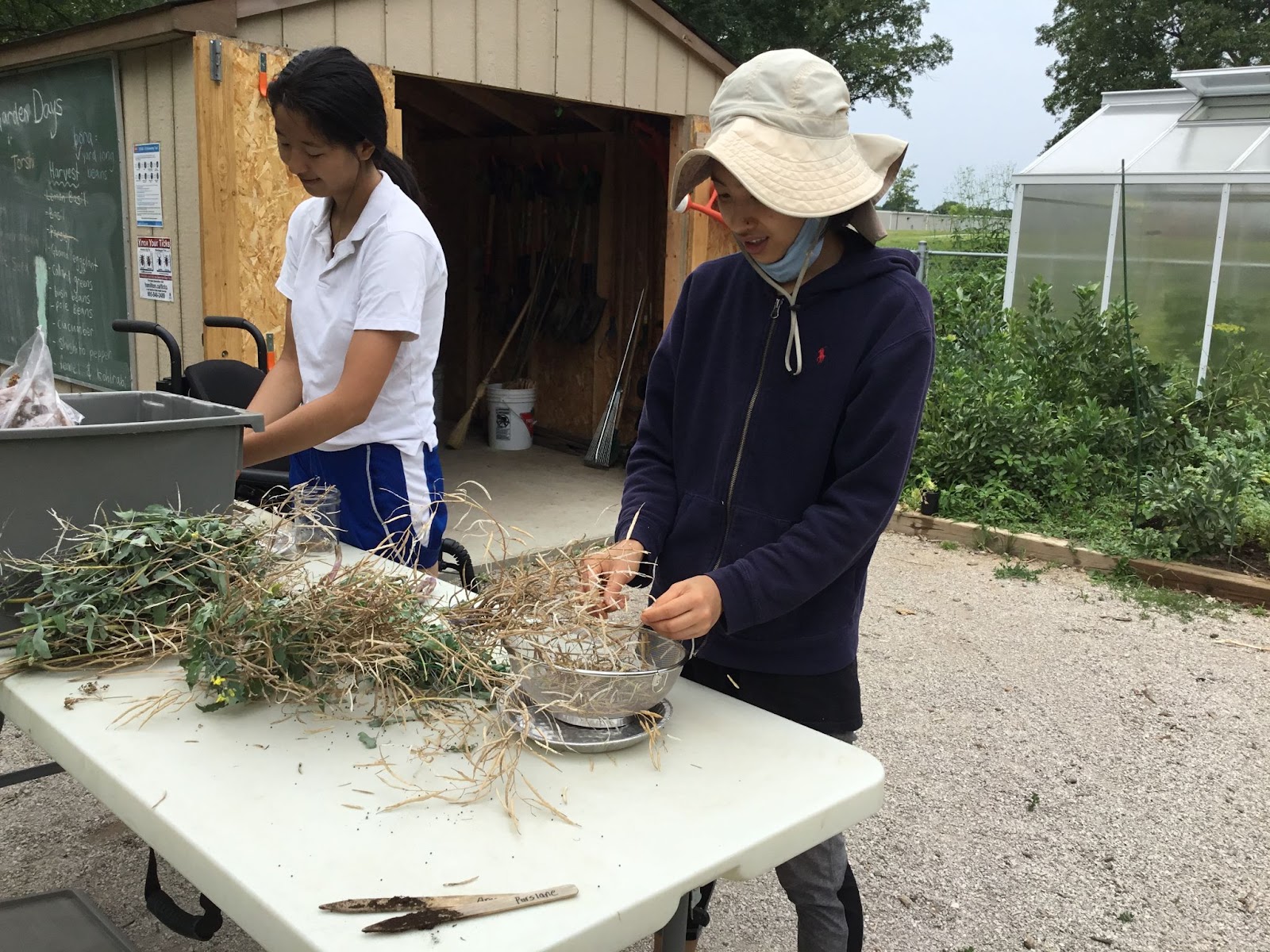 Photo caption: Sylvia (left) and Thuy (right) save Red Russian Kale seeds in the Hamilton Community Food Centre communal garden.