August 2014
It's the peak of gardening season! Are the tomatoes and peppers in your gardens beginning to ripen? Do the cucurbit harvests seem like they just won't stop?
Our garlic harvest was later than usual this year, due to the lower temperatures we've had in Ontario, but we have lots of bulbils to share again. Order yours now!
If you'll be in the Victoria area on the last weekend of October, don't miss our 30th Anniversary Gala and Annual General Meeting. See our web site for details, and registration.
And while you're harvesting the fruits of your garden, if you find yourself wondering about the science behind those delicious treats, scroll down to part two of our Botany Basics series to learn a bit more about "What's in a Fruit".
Hope you are all having a fruitful summer!
---
Garlic Bulbils Available for Planting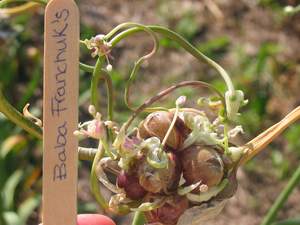 Seeds of Diversity has over 80 varieties of garlic bulbils available for planting this fall, and we're looking for growers! Bulbils - not the large bulbs that you're probably used to, but the tiny nuggets that grow in the scapes at the tops of the plants.
If you plant bulbils, be prepared to wait for two full years before harvesting fully-grown garlic, but the results should be better than clove-planted garlic, and growing from bulbils is a very economical way to scale up a diverse collection of varieties.
---
Botany Basics: What's in a Fruit?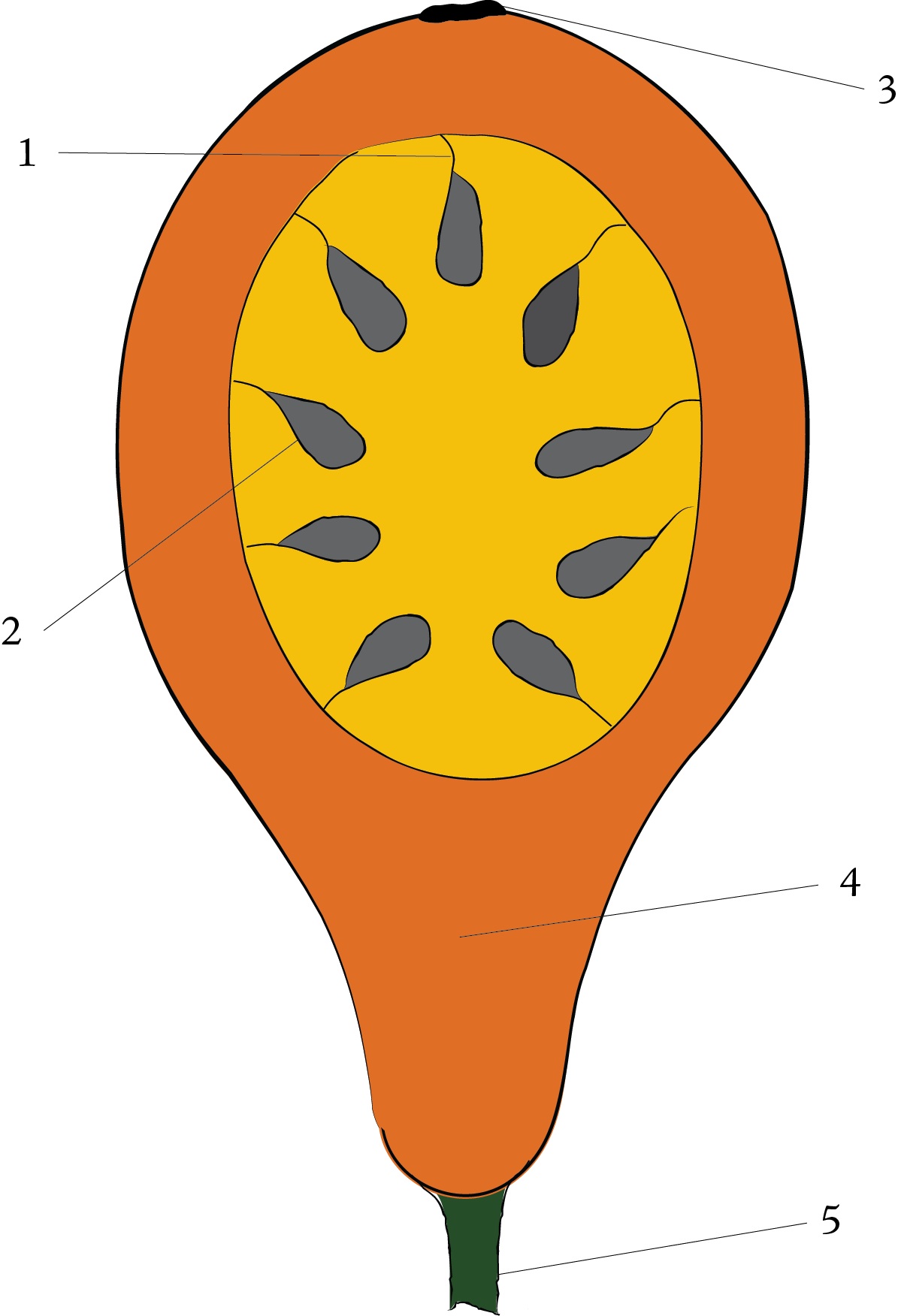 Fruits play a vital role in seed production.

After a flower is pollinated, the ovary grows up. One of its primary roles now is to feed the seeds that are going to live, grow and mature in it. This "seed nursery", which develops from the ovary, is called a fruit. It is very important in the development and dispersal of the seeds.

The more food that's stored in the seeds, the longer they will last, and the stronger they will sprout.
---
Bauta Initiative Profile: Red River Regional Seed Library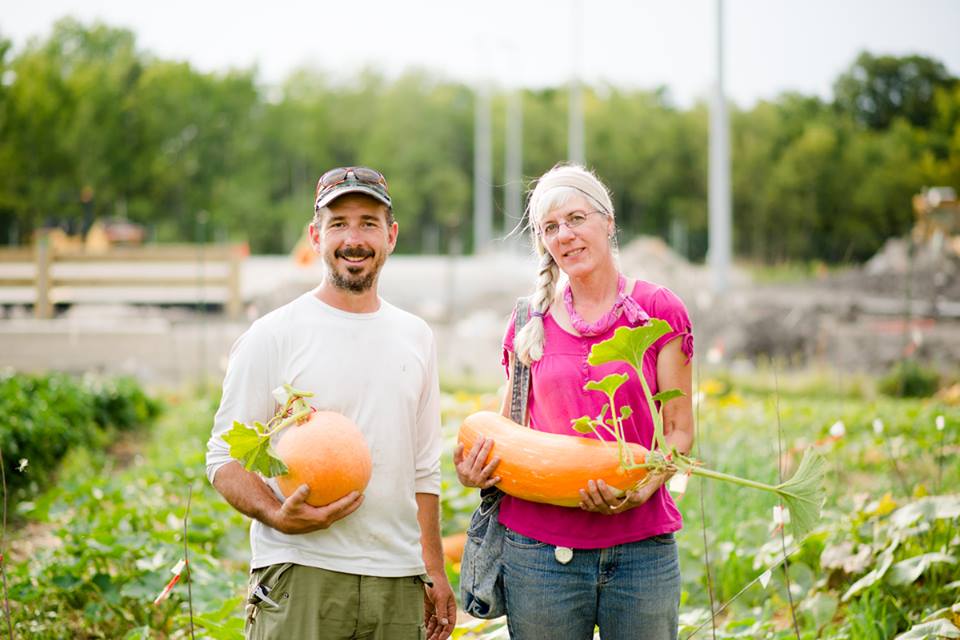 One of the primary mandates of the Bauta Family Initiative on Canadian Seed Security is to focus on the preservation and diversification of Canadian seeds. One of our partners in this pursuit, the indigenous Red River Regional Seed Library, has taken this goal one step further.
---
Pollinator Patch: Update on Honeybees and Neonicotinoids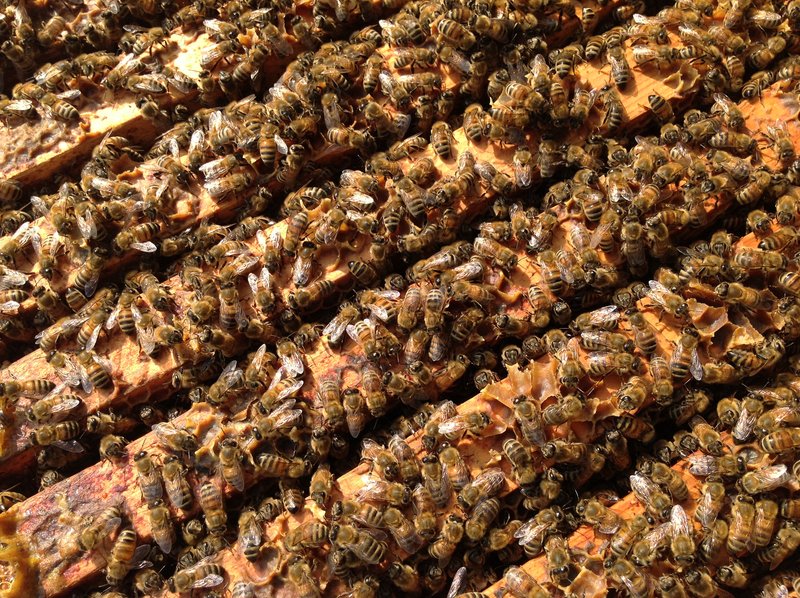 A recent survey found that the U.S. didn't lose as many honeybee colonies over the 2013/2014 winter as it did during the previous winter. Total winter losses were about 23% across the country. While this figure is an improvement over both the 30.5% loss reported last winter, and the eight-year average loss of 29.6%, it is still significantly higher than the 15% -18% loss rate that beekeepers consider acceptable.
---
The Sower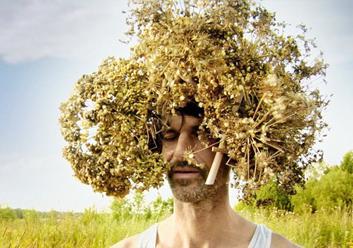 The film "The Sower" is a documentary on the life, work and passion of Patrice Fortier. Fortier is a Quebecois artist and organic farmer, who has devoted his life to producing seeds of herbs and vegetables, especially those of ancient heritage and other forgotten varieties.