October 2013
Saturday November 9, 2013 3:00-8:30
Station 20 West, 1120 20 St W
Saskatoon, SK
Annual General Meeting 4:30pm for members
Basic and Advanced Seed Workshops
Seed Exchange
Gala Friendraising dinner
How to Save Your Own Seeds
Our popular seed-saving handbook is greatly expanded (to 68 pages) from the previous edition, giving seed savers the most up-to-date information on seeds, flowers, and pollination. It demystifies the techniques of saving seeds from common garden vegetables, giving simple detailed instructions for each type.
Written with beginners and experts in mind, this is a manual for home seed savers as well as small-scale commercial growers. Whether you are learning to save rare heirloom varieties, discovering how to save money by growing your own seeds, or simply interested in learning more about the finer aspects of seeds and gardening, this is an excellent beginner's manual. Sections for the advanced seed saver give details on seed production of biennial crops (beets, carrots, celery, leeks, etc), hand pollination, and many more helpful hints.
Funding Opportunities from the Bauta Family Initiative For Canadian Seed Security
We are announcing three exciting funding opportunities for ecological growers, seed producers and food and farming organizations across Canada. These are:
Funds for seed training and exchange events, to promote high quality seed saving and the exchange of biodiverse, ecological seed.
Funds for projects that support public access, multiplication and diversification of seed available to farmers and the general public.
A Seed Facilitation Fund, to support projects to build capacity, scale up and/or diversify production of ecological, regionally adapted vegetable seed and grains.
Garlic Bulbils Available for Planting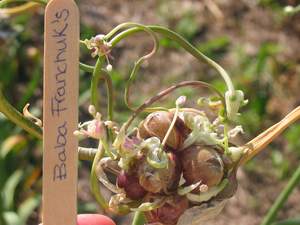 Seeds of Diversity has over 80 varieties of garlic bulbils available for planting this fall, and we're looking for growers! Bulbils - not the large bulbs that you're probably used to, but the tiny nuggets that grow in the scapes at the tops of the plants.
If you plant bulbils, be prepared to wait for two full years before harvesting fully-grown garlic, but the results should be better than clove-planted garlic, and growing from bulbils is a very economical way to scale up a diverse collection of varieties.