Neonicotinoids and Queen Bumble Bees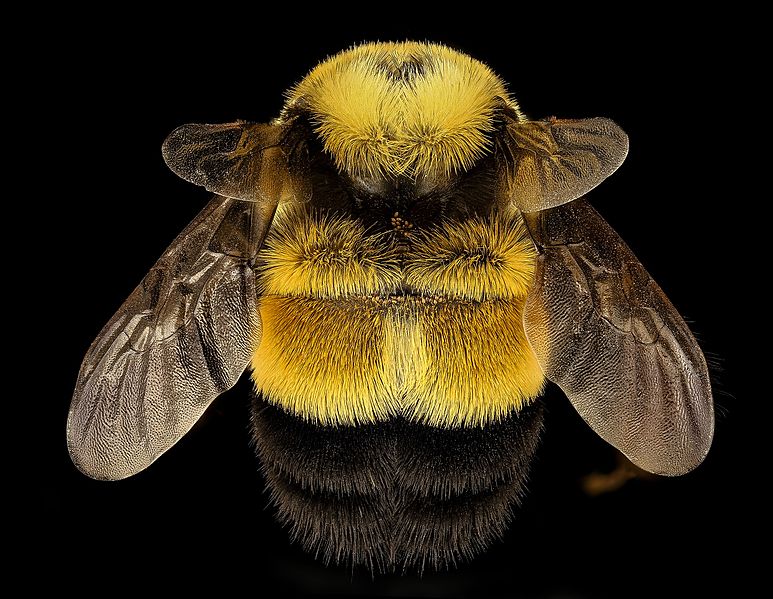 Kim Fellows
A recent study in the journal Proceedings of the Royal Society B showed that wild bumble bee queens exposed to neonicotinoid pesticides lay fewer eggs, slowing the growth of the colony. You may recall an earlier bulletin article that explained that bumble bee queens are the only queen bees who overwinter; the rest of the colony will die in the cooling days. When she emerges from hibernation in the spring, the queen alone is responsible for carrying on the next generation. Any impact on her at this vulnerable time thus affects the next generation of bumble bees.
Neonicotinoids - neonics for short - are a class of insecticide used worldwide in agriculture and horticulture, and they're even present in flea treatment for pets. Neonics are most prevalent as a seed coating. They are systemic, which means that the pesticide grows into all plant tissues, including pollen and nectar.
Nigel Raine, one of the study's researchers, explains that, "Queen bees will only lay eggs when the eggs are fully developed." Raine theorizes that the metabolic cost of detoxifying means that the bees have fewer resources for other biological processes such as egg development. The queen needs those first eggs to produce worker bees that will clean and guard the nest, forage for food (nectar and pollen from flowers) and nurse the next batch of eggs.
All queens from the four species studied by the researchers that were fed field-relevant doses of the pesticide exhibited smaller immature eggs than the queens who were not fed pesticide. Two of the four contaminated species consumed less nectar overall, which depletes their energy to fly or collect to feed their larvae.
Such differences amongst bee species underscore the fact that pesticides can have variable effects on different species. It is important to be very careful when extrapolating results from other pesticide studies, especially because a majority of research is done using honey bee species. Other studies have found that sublethal neonicotinoid levels impair bee navigation, task-learning, and reduce pollen collection (especially needed for young bees).
Europe implemented a two-year neonic ban for most crops in 2013, and is reportedly set to impose a wider ban this year. Dave Goulson reports that yields of crops on which neonics can no longer be used have been as high or higher than usual since the moratorium.
Health Canada is reviewing neonic use, but several groups think that this action comes too late, as the Pest Management Regulatory Agency (PMRA) should not have allowed the sale of a pesticide that hadn't been rigorously reviewed. Ecojustice is representing the David Suzuki Foundation, Friends of the Earth Canada, Ontario Nature and the Wilderness Committee in a lawsuit against the PMRA, which is in progress. Specifically, the lawsuit charges that the PMRA failed to ensure, for more than a decade, that it had the scientific information necessary to determine the pesticides' environmental risks, in particular risks to pollinators.
Finally, as you know from an earlier bulletin, Ontario is endeavouring to reduce the number of acres planted with neonic-treated corn and soy seed by 80% this year.
**
Kim Fellows is the outreach coordinator of Pollination Canada.
Photo: Bombus affinis, queen, by USGS Bee Inventory and Monitoring Lab from Beltsville, Maryland, USA [Public domain], via Wikimedia Commons