Back to January 2015 Newsletter
Pollinator Patch: Ontario's Pollinator Health Proposal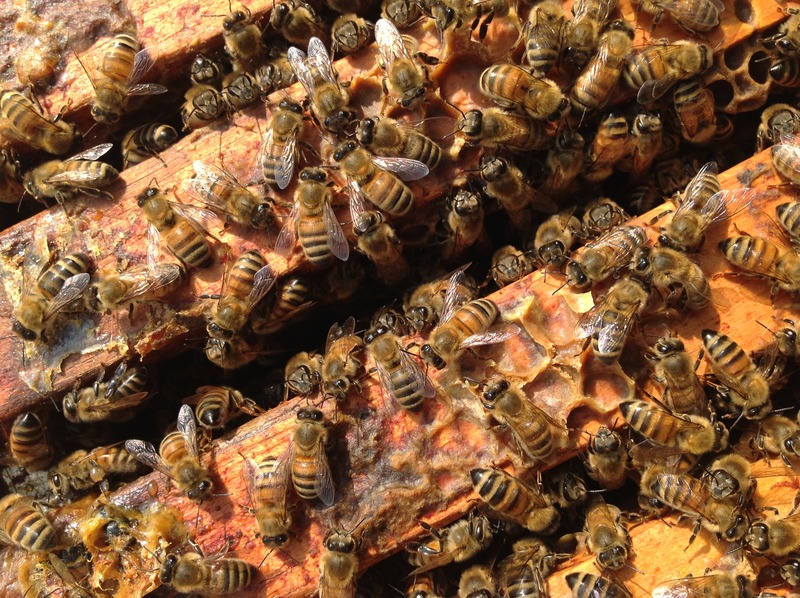 Last year, in November, the Ontario government released its new proposal to protect pollinator health. The government is now calling for feedback on its proposal, which is outlined in a discussion paper called, "A Proposal for Enhancing Pollinator Health and Reducing the Use of Neonicotinoid Pesticides in Ontario". The proposal comes after Ontario beekeepers lost a record number of bee colonies last winter, and draws on a number of studies on the impact of neonics on pollinators that have been published in the past two years.
The proposed plan includes two major "aspirational targets." These are:
To reduce the overwinter honey bee mortality rate to 15% by 2020 (the average mortality rate in Ontario has been 34% over the past twelve years, and reached as high as 58% in the winter of 2014)
To reduce the number of acres planted with corn and soy seed that have been treated with neonicotinoids by 80% by 2017.
The plan puts forward a number of regulatory measures under the province's Pesticides Act to meet these targets. One of the primary changes is that soybean and corn seed that have been treated with three neonicotinoids – imidacloprid, thiamethoxam and clothianidin – will be considered to be, and hence regulated as, pesticide products. These treated seeds will not be completely banned, but farmers and others will need to meet a number of criteria to show that they really need these products before they can buy and use the seed. (This differs from the current situation, where a large proportion of soybean and corn seed sold in Ontario comes pre-treated with neonicotinoids). These measures include:
Farmers will have to go through a Integrated Pest Management (IPM) training focused on alternate measures to control pests in soybean and corn
Farmers will have to document that they have taken IPM-based measures to reduce pests before they buy neonics
Farmers will have to complete a risk assessment that shows that they need neonicotinoid-treated seeds because they are dealing with specific pests above a certain threshold. This assessment (which still needs to be developed) would consider a range of factors, and would have to be certified by a third party.
After going through this process, farmers who are using neonicotinoid-treated seed would also need to follow specific procedures. These include using deflectors to redirect neonic dust, using a "fluency agent" to make sure that the dust from the seeds cannot travel too far, and cleaning all equipment after using treated seeds.
The Ontario government plans to implement these changes by July 2015, so that they are in place by the time farmers are planning for their 2016 growing seasons.
The proposal, if it is approved, will make Ontario the first jurisdiction in North America to take action on this issue. (The EU imposed a two-year moratorium on neonics in 2013). This is good news for honeybees, native bees and a number of other pollinators. Of course, neonics are not the only pesticides that harm pollinators. Let's hope the proposal is approved, is implemented effectively, and is the first step in a longer-term shift towards ecological, organic and pollinator-friendly agriculture.
--
OMAFRA is calling for public comments on the proposal. The deadline to submit is Jan 25th – just three days away!
A discussion paper of the Pollinator Health proposal can be found at http://www.omafra.gov.on.ca/english/pollinator/discuss-paper.pdf
Comments can be submitted here, or by writing to PollinatorHealth@Ontario.ca. Remember to include the EBR registry number 012-3068 in your subject.