Back to September 2017 Newsletter
The Canadian Seed Catalogue Index has been Updated!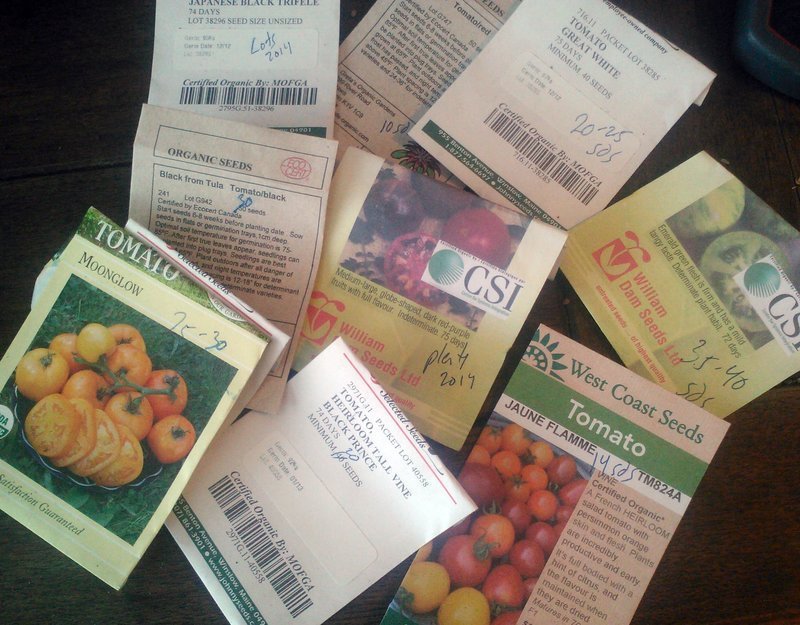 Judy Newman
The newest and most up-to-date version of Seeds of Diversity's Canadian Seed Catalogue Index (CSCI) is now online! For those of you who don't know about our index, the CSCI is a resource list for gardeners and seed savers of all the seed companies in Canada, and the seeds that they sell. We update the listing regularly, and our latest version has over 17,500 entries of the amazing vegetable, melon, garlic and grain seeds offered by seed companies across the country! You can check out the CSCI on our website at www.seeds.ca/sources.
One of the goals of the CSCI is to research and assess which seeds are being sold in Canada, which of those seeds may be rare and in need of preservation, and which varieties are being adequately protected by seed companies. This information means that we know which rare seeds we need to protect in Seeds of Diversity's Canadian Seed Library. These are the varieties that not many seed companies are offering. Preserving them in the seed library means that if a seed company stops selling those varieties, we can make sure that we have a backup of those seeds for you, our members and seed savers. You can help with this effort by adopting a rare seed into our seed library today.
The research in the CSCI is also used by you, along with thousands of other gardeners, to find the seed they want every year. We are happy to support Canadian seed companies in their efforts to preserve heritage seeds, by guiding you to their catalogues and websites. (One seed company owner estimates that over 30% of her website traffic comes from our site!).
The research process of updating the listings always lead to some interesting discoveries about our Canadian varieties. For instance, we have found that several varieties go by multiple names. The 'evergreen white bunching onion', for example, also goes by the names 'Welsh onion', 'scallions', 'multiplier onion' and 'He Shi Ko'! Of course, this makes it rather challenging to assess how rare the variety is. If only one company called the onion 'He Shi Ko', but another twenty called it 'evergreen white bunching', we might think that He Shi Ko is rare, when it is not. Another example is the 'asparagus bean', which is also called 'Chinese long', 'yard long', 'green podded' and 'green noodle' bean!
Many varieties go by their original name in one language and also by an English translation, such as 'Les oreilles du diable' or 'ears of the devil' lettuce. So if you are looking for a seed, and it has a translation, you may need to look for it under its translated name. Then there are what we think are translations that turn out not to be! For example, 'Coeur de Boeuf' is not 'Oxheart' or 'Bull's Heart' tomato. It is, in fact, a wrinkled tomato, whereas Oxheart is smooth. There can also be two varieties with very similar names that aren't the same, such as the 'green zebra' tomato and 'green zebra cherry' tomato.
Other varieties may have similar words in their names. Livingston tomatoes were bred by Mr. Livingston, so varieties like Stone, Paragon, Perfection and Golden Queen tomatoes may be sold under those names or with the 'Livingston's' prefix added to them. Then there are those that have been "improved." For example, Laxton's and Progress #9 pea are the same, but they are the improved version of the Thomas Laxton pea, so are listed separately.
Despite our research, sometimes we just don't get it right, and we rely on you to let us know about these mistakes or oversights!
Visit our updated Canadian Seed Catalogue Index now!
**
Thank you to Shirley Bellows, our Vancouver Island representative, for her superb editing skills. And sincere thanks to the seed companies that used our spreadsheets to send us information – you saved us a lot of valuable time!
A big thank you also to our sponsors, who helped make this 2017 index possible. We welcome donations for this vital research.
Benefactors: ($500+)
Prairie Grown Garden Seeds
La Finquita Seeds

Patrons: ($100+)|
Agrohaitai Seed
Greta's Organic Gardens
Harmonic Herbs
Mountain Grove Seed Company
Prairie Orchard Organics
Tourne-Sol Co-operative
Urban Harvest Organic Seeds

Friends: ($50+)
Antique Edibles
Mumm's Sprouting Seeds
**
Judy Newman is Seeds of Diversity's administrator.